14 Day Yoga Challenge
In light of mental health awareness week, we have teamed up with Danielle, an incredible yoga instructor to bring you a 14 day yoga challenge!
Through our 14 day challenge, you'll be guided through strength building, flexibility building and restorative sessions. Our aim is to challenge you by encouraging to do a yoga session every day for 14 days. We will be providing the poses and audio that will guide and notify you when to switch to the next position.
Below you will find an updated list of our 14 day challenge as we publish them. And don't forget to check us out on Facebook at 9am for each day's session. Follow us on Instagram to see a detailed guide of yoga positions and their benefits!
Let's Get Started!
About Our Instructor
Danielle has created and instructed through Danielle B Yoga and Reverse the Kerrs Farm, also known as Goat Yoga Chicago. Danielle is a big advocate for wellness and thrilled to help us celebrate Mental Health Awareness Week! The beauty of yoga is that it simultaneously builds on mental and physical wellness. She has been encouraging healthy living ever since becoming a certified yoga instructor and is well known for spreading her message of wellness and infectious positive attitude. We couldn't feel more lucky to have her!
Helping Spread the Love
You can help spread Danielle's message by helping out during these difficult times. Here are a few way you can help spread the love.
Check out the new merchandise shop and don some fabulous new swag perfect for yoga, allowing full range of movement. Remember "You Goat This!"
Help give the goats some TLC by donating! This "Goat Fund Me" was established to help with the costs associated with caring for the goats during this time of non-function.
Music
Like music? Danielle has put together 2 playlists with her top picks for music to listen to while doing yoga. Click here to be redirected playlist #1 or playlist #2 on Spotify!
Playlist #1
Playlist #2
Using the Provided Audio File
Under each session you will find an audio file. This is a timed guide for each session. If you don't want to set alarms for each pose, you can use this guide to press play and go. Once you hear the first gong sound, begin the first pose and when you hear the gong sound again you'll know to move into the next position. At the end you'll hear two gong sounds in quick succession to know that this session which includes multiple sets, is now complete. This is a great way to think less and breathe more- making the most out of your time.
The 14 Day Yoga Challenge
Day  1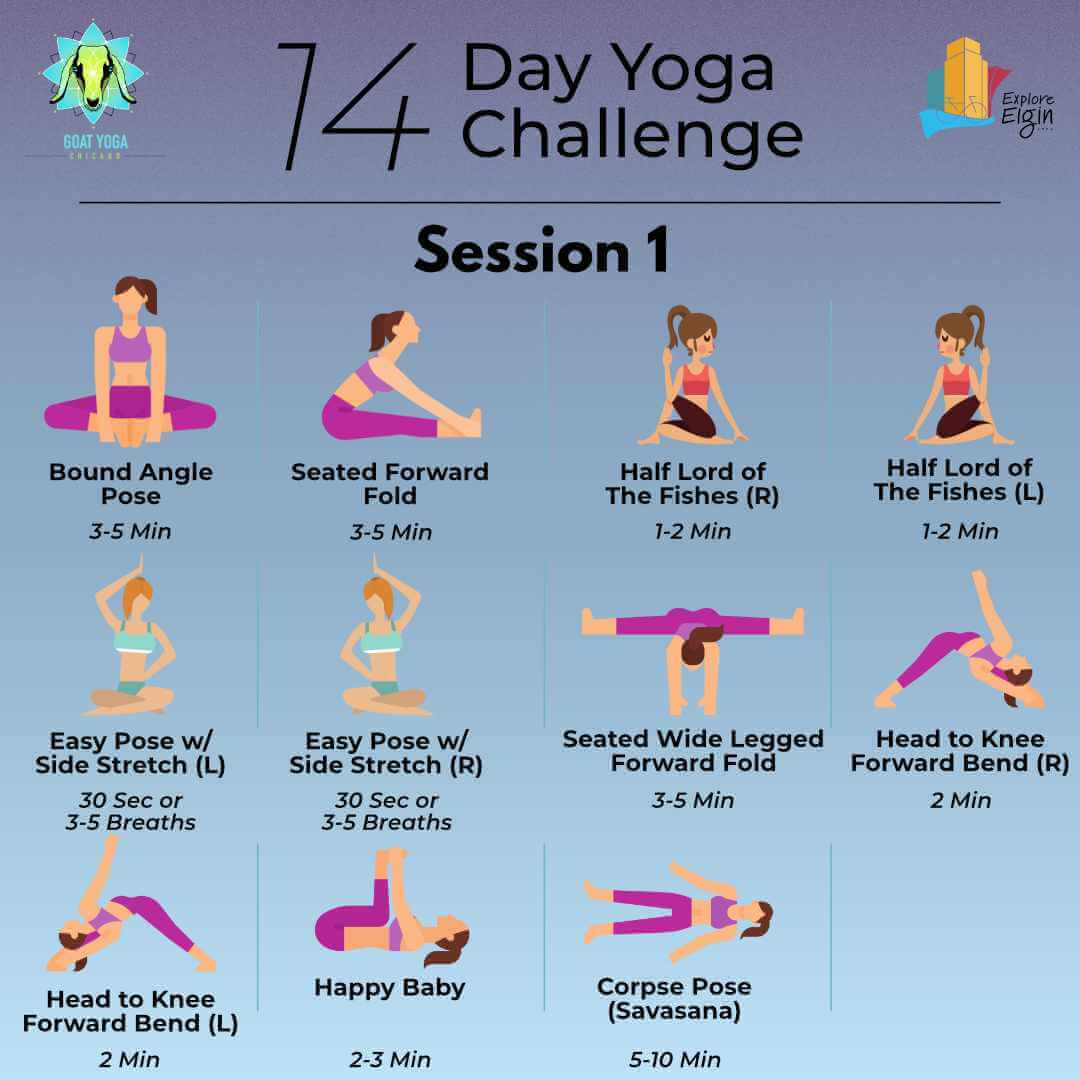 ---
Day 2
---
Day 3
---
Day 4
---
Day 5
---
Day 6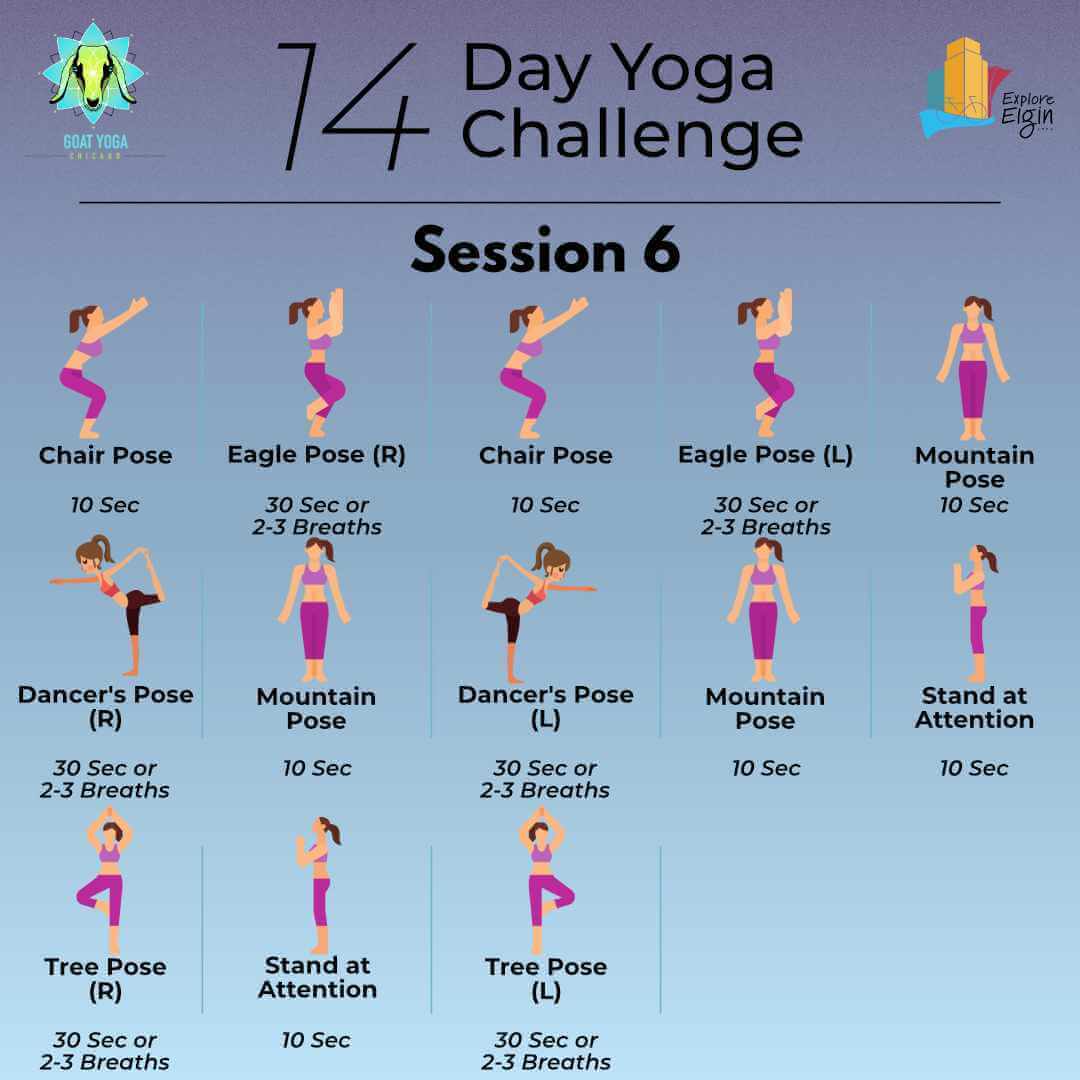 ---
Day 7
---
Day 8
---
Day 9
---
Day 10
---
Day 11
---
Day 12
---
Day 13
---
Day 14
Congrats on making it to day 14! Our final day is comprised of 7 sessions you've already done, gathered together to make a full sequence. Each part is listed below so you don't have to back track.
     Part 1
     Part 2
     Part 3
     Part 4
     Part 5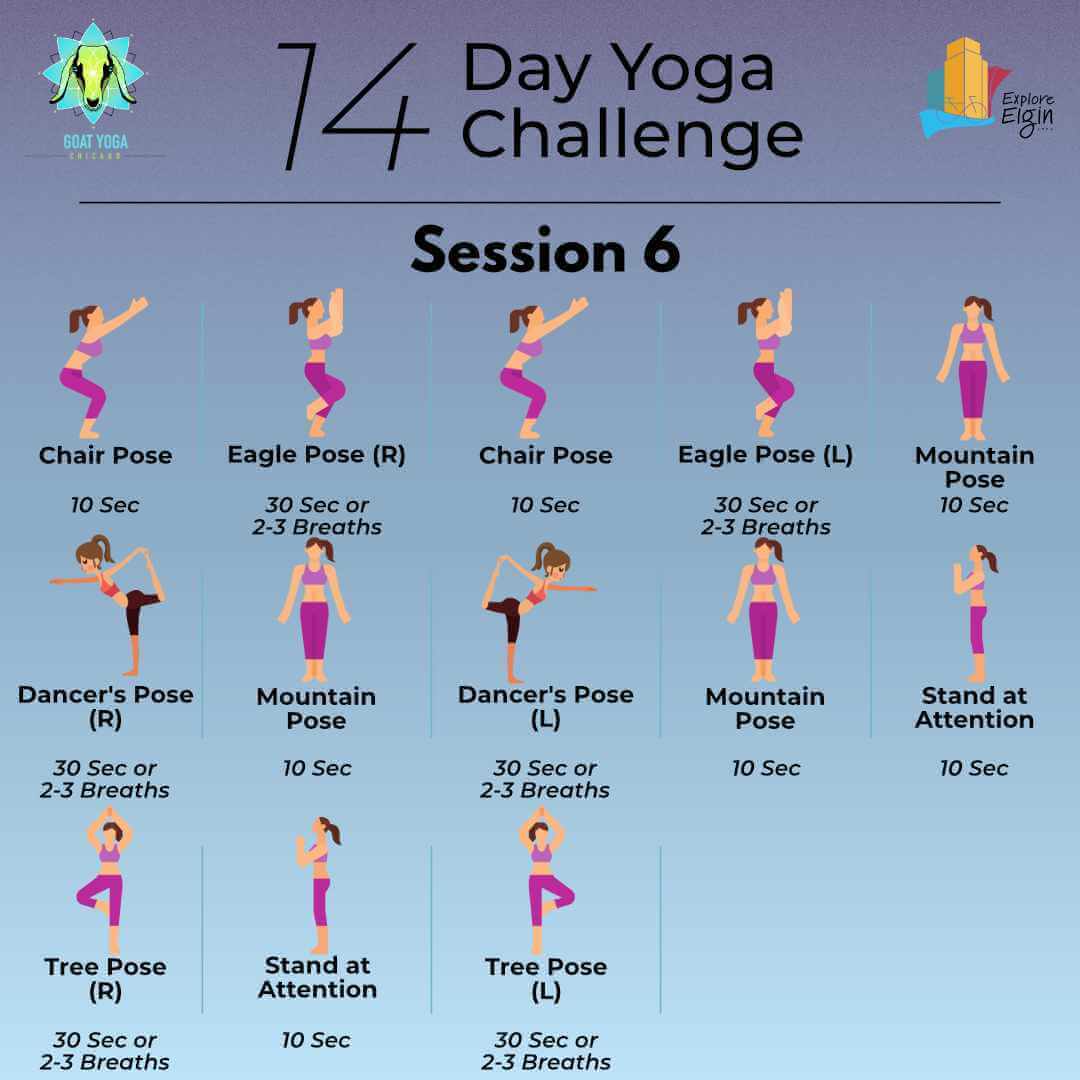 Part 6
     Part 7
Congratulations on making it through the 14 Day Yoga Challenge!
How'd It Go?
Thank you for coming on this journey with us. We hope this has been a very enjoyable experience for you, just like it has been for us. And even if you weren't with us along the way- we still encourage you to take the challenge.
We would love to see how our 14 Day Yoga Challenge is going for you. Show us by posting your photos and using #ExploreElgin and you can show Danielle by using #ReversetheKerrsFarm or #GoatYogaChicago
If you enjoyed this challenge, click here to learn more about Goat Yoga Chicago and Reverse the Kerrs Farm, now available for private sessions!
Like this blog? Here are some others we think you may like!