4 Indoor Activities for Kids
In the midwest it can be tough to escape the winter chill. With very low temperatures at times, it's not a good idea to be outside. The next time you need somewhere to take the kids, check out these 4 indoor Elgin Area attractions that are perfect to keep the kids active or entertained during the winter months.
Epic Air Trampoline Park
Epic Air Trampoline Park is 30,000 square feet of indoor fun located in South Elgin. Have an EPIC experience where you can enjoy flipping high up into the air in our open jump arena, jumping your way down our long trampoline tracks, or leaping into our pool of foam cubes! There are so many ways to jump at Epic Air! Play a game of dodgeball or dunk a basketball as you head down one of our basketball lanes.
LazerMaxx Lasertag Family Fun Center
One of the newest and largest laser tag centers in the Chicagoland area. This venue features 5,000 sq. ft of play space in a multi-level arena. In the area you can expect fog, light pillars and awesome heart-pumping sound effects! You can also play in the gaming area with 50 games to choose from and a prize counter to redeem tickets.
Midway Landing Bowling Alley
Midway Landing Bowling Alley has a little something for everyone. It's the place for fun in Bartlett with 14 bowling lanes, 6 pool tables, 2 Air Hockey and multiple arcade games everyone can enjoy.
Underground Retrocade
The Underground Retrocade's mission is to transport players back to their original arcade experience by featuring games from the golden era, as they were played using the correct cabinets, controls, and displays. They hope to complete the experience with "background ambiance" and decor from the 80's to create a truly immersive experience parents and kids alike will love.
When it comes to smaller children please note:
Most if not all of our arcades have been lovingly restored and require proper care and use. Smaller children may have difficulty reaching the controls and will need assistance learning how to play. We have a limited number of boosters available – please do not allow children to stand on chairs, stools, or tables. Please ensure your children do not "hang" from controls as the joysticks and steering wheels are not designed to support a child's weight – you will be held financially responsible for any damage caused.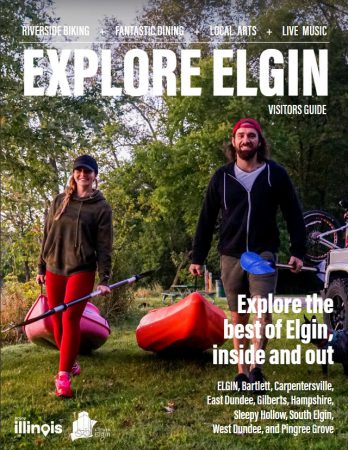 Visitor's Guide
Get our Visitor's Guide for all you need to know about the Elgin area.
Read Your Guide