7 Reasons Locals Should Follow Their CVB
We are Explore Elgin Area, the Elgin Area Convention and Visitors Bureau. But do you know us? Tourism is our focus and while it may seem like our information and resources are just for potential or returning visitors, our resources are great for locals too! Keep reading to learn why!
We're Always Featuring Fun Travel Ideas!
As part of our desire to bring visitors to the area and cater to visitors coming on business or for sports, we know the Elgin Area inside and out! After all, being comprised of 10 communities offers a lot of travel ideas and there is no shortage of trips and getaways that we create. When you follow us you'll be notified of new ideas, when seasonal activities reopen, themed getaways and experiences right in your own backyard!
We're Planning Experts!
Part of what we do is make travel easier for visitors who come to the Elgin Area. But our planning expertise is perfect for locals too! Because locals can get to our attractions much quicker, a last-minute decision to turn an ordinary day into an extraordinary one is not only possible but easy and stress-free! Seeing a quick update on our social media channels could be the start to an amazing experience you otherwise wouldn't have known about.
We Welcome New Businesses!
Have you ever been out driving and all of a sudden see a sign for a new business? Maybe you think "oh that's new I wonder what's there." We make a point to introduce ourselves to new businesses and learn about what makes them special. We have to because when we're asked about certain styles of eateries or services, we have to cater our options to what our visitors are looking for. We're always in the know! Connecting with us is a great way to connect with the goings-on in your town and with your next favorite restaurant or attraction.
We Bring Cool Events to Town!
First thoughts about tourism are usually leisure based. And while leisure is a big part of our mission, there are other elements like business tourism, sports tourism and event tourism that we focus on. Explore Elgin has brought a number of cool tournaments and events to the area. August of 2021 is a great example of this effort! There were two events that Explore Elgin played a key role in bringing to the area. The first was a motorcycle show, Progressive IMS Outdoors that took place in Pingree Grove at Goebbert's Farm. The second was a tournament, the 2021 North American and Caribbean Handball Confederation (NACHC) Senior Women's Championship. These events bring visitors from all around the world to spend money in our communities and provide great options for entertainment for residents. Almost all tournaments and events are open to spectators to enjoy.
Updates Updates Updates!
Staying on top of what's happening in the 10 communities we serve is a big part of what we do. While it may be enjoyable for some to scour the web for updates and new information, researching every local favorite spot can be a headache. We're a one-stop for updates, new offerings and events, just to name a few. When you look to your CVB for local information, you will find it. And if not, we're only an email away.
Our Events Calendar!
With 10 communities we know that there is always something happening. From the causal game day viewing party with unbeatable deals to full-scale orchestral performances and large outdoor festivals. Finding something to do when you just don't want to spend the whole day at home is quick when visiting our events page. And locals can benefit from this just as much as any visitor can when looking for something new or interesting to do.
Sharing Community Experience = Hometown Pride
We do what we do, because we love it! It's really that simple. When we get to promote all the neat activities and experiences that can be enjoyed in the Elgin Area, it makes us proud and it will make you proud too. Many CVBs are run by residents and influential community members and we are no different. In fact, we enjoy what we do so much we launched a campaign specifically for visitors considering residency called "10 Reasons to Call Elgin Home". Connecting with us is connecting with your community. And you would be happy to see all the wonderful things that we get to share!
Connect with us!
Here are some ways you can stay in the loop with us based on what your preferences may be.
Want consistent and quick updates? Follow us on Facebook!
Love fun image-based information and community highlights? Follow us on Instagram!
Looking for inspiration with linked content? Follow us on Twitter or Pinterest!
Need just the occasional update/ newsletter? Join our mailing list!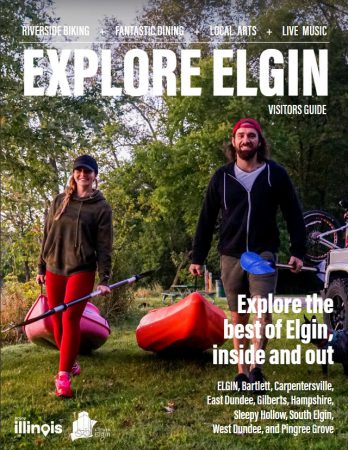 Visitor's Guide
Get our Visitor's Guide for all you need to know about the Elgin area.
Read Your Guide