Behind the Business Spotlights
There are many reasons we as a community have been doing everything we can to support local businesses. But we wondered how many people knew the faces behind the businesses. So many of our local business owners have incredible and inspiring stories that we felt needed to be told! We hope you enjoy learning more about the people behind the brand. We also hope that this may encourage you to stop by, show your support and learn about some businesses you may not have known about before. Enjoy!
Business Spotlights
Kimberly has taken her love of music and teaching and put that passion into her own studio. Feeling incredibly creative yet restricted, opening her own studio was the way to go.
"I was a music teacher and I had a million ideas. I wanted to have talent contests and huge recitals with bands and groups and Halloween concerts and huge Christmas concerts with sketches and I knew I needed a school to do that. So I rented a studio and started teaching from there, just me and 10 students. We now have 5 teachers and over 200 students! We've been in parades, had talent contests in festivals in East Dundee, performed all over town, had several Christmas shows with mini plays, we've even had a Grown up recital at The Village Squire! The students have formed bands amongst themselves and we even have a choir program! Being the school that's not just a school, we give these students chances to perform in the community and feel like they are using their gifts!" Says Church
You may have stumbled upon these music students at a number of community events. Whenever town activities are happening, they are there, bringing the music!
Current events haven't stopped the music, lessons are currently being offered both in person socially distanced and online. Making a great way to keep music education going while at home.
If you're interested in learning an instrument like you always wanted, or have a child who wishes to expand their musical talents, you can touch base by sending an email to Lessons@kimberlyrics.com or by calling 224-227-4223. You can also find more information on the Kimberlyrics website.
Thank you Kimberly for your effort and love that goes into spreading the joy of music! And for adapting your practice so it can remain widely accessible despite the challenges.
---
Imago Events – Aimee and Mark Novelli
We're going Behind the Business today with Aimee and Mark Novelli, owners of Imagoevents! At this warm, welcoming and inviting venue, you can expect personal service and attention to detail. They treat the venue as an extension of their own home and family.
"After years of serving in the event industry we realized we had an opportunity to now be the ones hosting those very significant events for others. We witnessed the appreciation people had for the history of the building we were currently using as offices for our media company. Time after time individuals requested the opportunity to host gatherings and meetings in the space.
Eventually we decided to make the move and renovate the space for event usage. We view Imago Events as an extension of our home, taking a lot of personal care and attention to ensure all who enter are welcomed."
Something that makes Imago Events unique is the history behind the space. The building was built in the 1920's, originally as a Packard Auto dealer. This space has been updated preserving original elements of the bowtruss construction including; exposed timber beams, skylights and original brick. Photos of the original auto dealers and auto services are displayed in the building, sharing part of Elgin's history.
Step into the venue and enjoy the historic charm and character!
Learn more and check availability by contacting them online.
---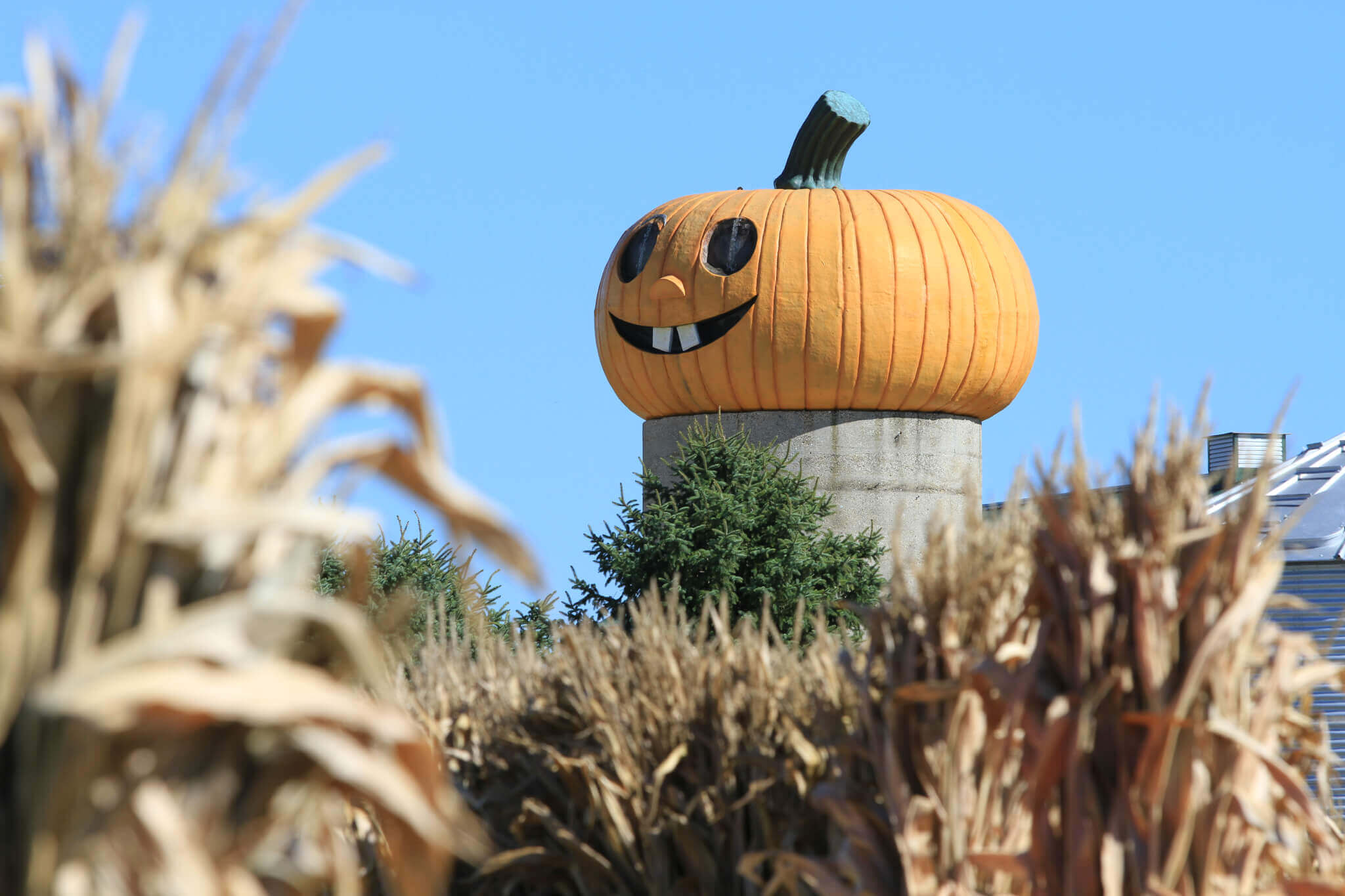 Today we're going Behind the Business with Lloyd and Terry Goebbert, owners of Goebbert's Pumpkin Patch and Apple Orchard. Known as being a must-see in the Elgin area during the fall season. Goebbert's is well known for apple and pumpkin picking but there is so much more! A light show, festival, haunted house, and an apple cannon, just to name a few. Lloyd and Terry ensure families who come to Goebbert's have a great time.
"One of our slogans is "harvesting family memories" because we provide a unique opportunity for families to spend quality time together outside during the Fall season. We are now a 5 generation farm that originally functioned as a vegetable farm, and we have grown to really enjoy entertaining and providing families with great Fall memories. We take pride in providing a safe, family environment with many attractions suited for all ages."
Planning your trip to Goebbert's? We highly recommend picking up homemade apple cider donuts to munch on while taking a ride out to the patch to pick your own pumpkin.
---
Mr. and Mrs. Bear purchased their first McDonald's Restaurant in Elgin on Larkin Avenue in 1967. Soon after, they purchased the Summit Street location. Over the last 50 years, their sons Marc and David joined the business and grew to 32 restaurants. One of the founding principles of Bear Family Restaurants was a strong commitment to give back to the communities that they serve. In 2020, Bear Family McDonald's are going to give over 1000 hours of volunteer time, over half in Elgin! They are proud to be part of Elgin and happily serve this wonderful city with significance!
Even though there are McDonald's Restaurants across the US and the world, they strive to impress every guest that visits a Bear Family McDonald's Restaurant. That's what makes their restaurants stand out while still providing the familiar taste of your favorites!
While the Bear Family is known for their McDonald's Restaurants, they strive to be known as a member of the community that is always ready to serve and give back. Continuing their many volunteer and philanthropic activities, they have tried to find new ways during the pandemic to connect with our community. They are constantly seeking new ideas to make an impact like teaming up with a nursing home near the Larkin Avenue location to establish a pen pal program and the other efforts they took during the beginning of the pandemic that got them featured as a Hometown Hero.
The Bear Family hopes to be known for genuine care and concern for our community as well as providing an exceptional experience at all of their restaurants.
---
It all started way back in 1954 when Herb Schwartz first opened the bakery. Today, his children Erich and Wendy are the main ones running Herb's Bakery. Erich and Wendy grew up in the bakery and love continuing their father's legacy.
"It is really something special to create something for someone and see how happy they are with the result. We've had little ones go on and on about a simple cookie and it just makes your day to the joy on their face." said Wendy.
They hope people will stop by because they've heard good things about Herb's Bakery. They uphold the "old-fashioned bakery" standard, meaning everything you see when you visit is made in-store. Some of these fresh treats include danishes, muffins, and breads. And you can order a plethora of cakes for every occasion, like birthday cakes, wedding cakes, graduation cakes- you name it! And they're always changing it up.
"We try to do our best everyday to come up with delicious ideas for our customers to enjoy." Wendy mentioned.
This is a great time of the year to visit now that fall favorites are back; like pumpkin snack bread. And for celebrating Oktoberfest with soft bavarian german pretzels and rolls! (pictured)
Thank you Erich and Wendy for continuing the legacy of a wonderful business that creates so much joy in our community.
---
If you're a fan of ice cream and you live in the Elgin area you have surely been to or at least heard of The Milk House. Today we'd like to introduce you to Clint and Brook Carey the owners of the Milk House in Pingree Grove. After their meeting and wedding, Clint and Brook were presented with the opportunity to purchase one of the first farmsteads in Pingree Grove that has been in Brook's family since the 1800s!
Clint continued his work as a jeweler until carpal tunnel surgery ended that career path while Brook continued in her chosen field as a lawyer. They began to renovate the property and a new future started to take shape for them. Combining Brook's love for ice cream and baking, and Clint's passion for gardening and local farms they decided to open an ice cream shop in this farm's old milk house. They sought to establish a place where family history, tradition, and recipes could pair with local produce and dairy to create delicious and original styles of ice cream. The Milk House invites one and all to a family farm where the ice cream is always fresh, always made by hand, and forever classically whimsical.
A special shout-out to the family of Clint and Brook for continuing to provide lots of love and support that has helped make The Milk House the incredible place it is. A special thanks to their parents Becky & Philip Dambacher and Carol & Wyman Carey, as well as children Brandon (Angie) Carey, Chelsea (Nick) Valdez, Owen Carey, and Jackson Carey, and grandchildren Charlotte Carey and Santi Valdez.
We feel so lucky to have people like Brook and Clint in the Elgin area. Not only for amazing ice cream but for reminding us that even when times are hard, it doesn't last forever. Negative events or circumstances can sometimes act as a door to something better.
Congrats on cultivating an amazing business that is also an amazing place to be!

---
Kate decided to open The Uncommon Palate because she was becoming very tired of the corporate world. She wished to be back in front of people and giving them quality products and great service, that's where she's happiest! Having a background in the food and beverage industry, Kate wanted to continue to build her skills and focus her energy there. And The Uncommon Palate is a real hidden gem! There you can find local honey, a variety of wine, olive oils, balsamic and of course great food and coffee. And it's a perfect place to find gifts for your foodie friends and family! A great shopping experience plus the friendly atmosphere will keep you coming back.
" I want people to know that when they come in here, they will be welcome with open arms (literally, I will give you a hug! LOL) I really just want people to have a great experience whether that be with a coffee or a glass of wine." – Kate
We highly recommend the wine, and coffee but if you're in the store you have to try the Avo-Everything Toast, or the Vegan Breakfast Cookie!
Be sure to follow the Uncommon Palate on Facebook to stay up to date on new available products, deals and more. And to keep an eye out for some changes coming later this month!
---
Good morning! Today we would like to introduce you to Kevin Krak. You may not know him but we bet you recognize his business, Rochaus. Located in downtown West Dundee sits a historic theater, first built in 1910. The property changed ownership over the years but the transition of Rochaus becoming the premier entertainment venue we're familiar with today didn't start until 2012 when he purchased this beloved theater space.
Dedicated to create a place that would cater to the community and artists, the building went through a full remodel on the interior and exterior. Now Rochaus has been featuring all kinds of bands and entertainment, serving as an oasis for music lovers and artists alike. Rochaus is currently hosting events with a capacity limit so be sure to check out their events page and the descriptions to see what the safety requirements are. Otherwise you can view the live stream of their performances from the comfort of your home via Facebook or Youtube.
Thank you Kevin for all your hard work and dedication in creating a place residents and visitors keep coming back to! Keep on rockin'!
---
As a music nerd, Rediscover Records is a culmination of Rich's near lifelong dream. After a lifetime in the restaurant industry, Rich decided to finally open the shop in 2010. Meaning a recently celebrated 10 year anniversary this year. "Despite a few foibles here and there, I love the dynamic of downtown Elgin and especially the other indie small businesses that have cropped up in recent years. Our building dates back to the late 1800s, so that adds a cool element to the shopping experience here. This ain't no strip mall!" says Rich.
Despite recent challenges Rich remains positive. Seeing how people have really embraced the vinyl music format in recent years had brought a new generation of music lovers through his door. Record shops like Rediscover Records are definite destination shops. People come here from Elgin, other suburbs, Chicago, and even other states when visiting the area. There are even apps to find record stores!
"For just over 10 years, I've been grateful to be able to unlock the door and turn the sign to "Open" at Rediscover Records. It's really a dream job. Someone asked me about goals not long ago and I said I didn't really have any because I am living them. Here's to, hopefully, a few more years. We'll keep 'em spinnin' for you." -Rich