Elgin Area will continue to monitor and provide updates related to COVID-19 across our social channels and our website.
Learn More
Visit Elgin, Illinois
Discover things to do on an Elgin, Illinois, getaway
Goebbert's Pumpkin Patch – Pingree Grove
Goebbert's Pumpkin Patch - Pingree Grove
42W813 Reinking Road IL, Pingree Grove 60140
About
Goebbert's Pumpkin Patch is a 200 acre farm that is open to the public in mid August when our U-Pick fields open. In late September, we open as a fun fall festival for the family.
Goebbert's has been in the farm market business since 1948. George Goebbert started a roadside vegetable stand in Arlington Heights at the corner of Algonquin and Goebbert Road. In the beginning, we had a card table or sometimes a wagon filled with produce to sell. The only way to Chicago before the toll way was built was the road we were located on so most of our traffic was from the Arlington Race Track. After the races, people would stop by on their way back home to get produce. As soon as the toll way was added and buildings began to pop up, the traffic coming from Arlington Race Track began to decrease and local traffic increased. In the 1950s, we started selling pumpkins and had a much smaller variety of animals and what we call agriculture entertainment. We could tell people really enjoyed what has grown to be our fall festival. In 1972, Jim Goebbert bought a farm in South Barrington and moved his family there. That location was initially a dairy farm so there have been many renovations since the purchase. Jim, Esther and the kids began to run the pumpkin stand while I maintained the produce stand in Arlington Heights. One day, the farm got so busy that I closed the stand and came to help with the customers. We have been busy ever since. We wanted to make Goebbert's a destination farm so in 1979, we had the fiberglass pumpkin, "Happy Jack" made for the silo. Happy Jack measures 18 feet wide, 15 feet tall, weighs one ton, and is a landmark for many people. This farm is comprised of 40 acres. The market and the house are the only buildings that are still standing since we purchased this farm in 1972. In 1976, we began to sell flowers and grew almost everything out of a small greenhouse. We continued with produce sales throughout the summer and have continued to expand ever since. In 1985, we opened this location, Goebbert's Pumpkin Patch in Hampshire.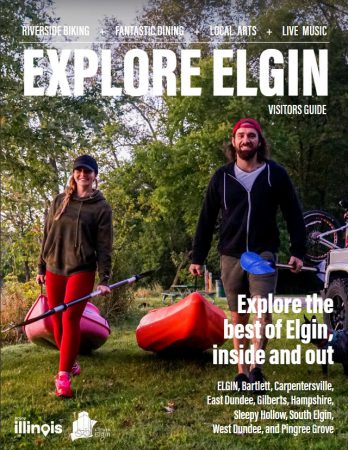 Visitor's Guide
Get our Visitor's Guide for all you need to know about the Elgin area.
Read Your Guide