Elgin Area will continue to monitor and provide updates related to COVID-19 across our social channels and our website.
Learn More
Visit Elgin, Illinois
Discover things to do on an Elgin, Illinois, getaway
McHenry County Historical Society & Museum
McHenry County Historical Society & Museum
6422 Main St. IL, Union 60180
About
Following a meeting of 70 community leaders the McHenry County Historical Society was created Nov. 23, 1963. Fast forward some 50 years and the Society continues to thrive. On July 14, 1976, the Society's museum in Union officially opened to the public. Its comprehensive collection includes an 1843 log cabin, an 1867 limestone schoolhouse, an 1885 town hall, an 1898 country church and an 1895 one-room schoolhouse. Every year more than 1,200 third-, fourth- and fifth-graders visit the museum and reconnect with their roots. In 1982, a local history research library was added to the museum and in 2002 the Society launched a mobile museum (available for events) called "The James." Besides operating the museum, the Society works to preserve historically significant structures, plaques historic sites and buildings, conducts workshops and lectures, makes available traveling exhibits and conducts a variety of programs – many of which are free! For details visit GotHistory.org. Funding for the Society comes from membership dues, admission and program fees, donations, sponsorships and investments. Your support through membership is key.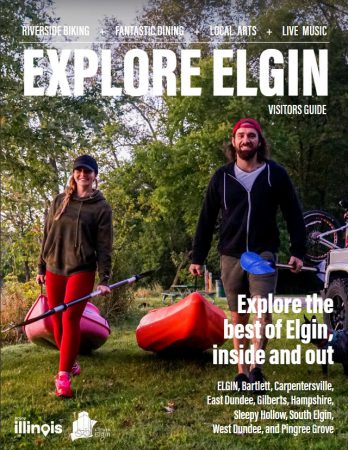 Visitor's Guide
Get our Visitor's Guide for all you need to know about the Elgin area.
Read Your Guide