Elgin Area will continue to monitor and provide updates related to COVID-19 across our social channels and our website.
Learn More
Visit Elgin, Illinois
Discover things to do on an Elgin, Illinois, getaway
Medusa's Nightclub
Medusa's Nightclub
209 E. Chicago Street IL, Elgin 60120
About
With one of Chicago's most prolific heads at the helm, some of the best DJ's and music available, and one of the hottest crowds that exists, Medusa's Nightclub in Downtown Elgin continues to be a beacon of light for the partying public. Medusa's boasts 3 levels, 2 dancefloors, intimate seating areas, constantly changing scenery, and a killer sound and light system.  Open every Friday and Saturday night… come experience what will surely become your permanent party destination.
​
​We've got multiple personalities.​​​​
We definitely have a diverse crowd and every night at Medusa's feels like you're stepping into a brand new experience. Some people still call us Mission from almost 19 years ago when we first opened our doors in downtown Elgin…  So let's clarify a few things for all of you. Here's what you'll find at Medusa's in Elgin.
​​​Medusa Saturdays | 17+ |  Elgin​
Saturday nights on our main floor and mezzanine levels, we're home to the infamous Medusa Saturdays 17+ dance club. We've got the hottest, coolest, funnest crowd around and we host new promotions and parties every weekend. We've become the reality stars playground, having hosted parties with tons of reality stars such as Jersey Shore favorites Snookie, Ronnie and JWoww and various stars from The Real World, I love New York, Daisy of Love, Biggest loser, The Hills and so much more. Doors open at 10pm every Saturday and the upper levels are open til 3am, with the lower level bar open til 4am!
​​Jet Nightclub | 21+ | Elgin​​ (Formerly known as Flight 209 or Level 2)
When you enter Medusa's, you'll walk up a flight of stairs and you'll be in our "Lower Level."  This level is always strictly 21+ every Friday and Saturday.  This level has an amazing airport theme with extensive LED Lighting effects, airport/airline imagery and more… it's basically as if you're stepping into a trendy and colorful airport lounge with a DJ Booth, Full Bar and Dancefloor!  Open 10pm til 4am every Friday and Saturday night!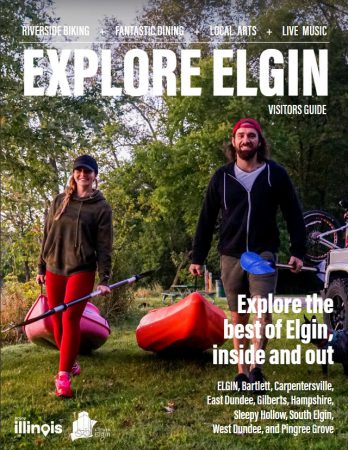 Visitor's Guide
Get our Visitor's Guide for all you need to know about the Elgin area.
Read Your Guide