Take Off with an Elgin Area Flight
Tastings, samples, flights they're all a great way to try new things or get a collection of your favorite flavors at once. Grabbing a flight is a great activity to do for catching up with friends, for an afternoon treat with the family or for a date night. Here's a collection of where you can "catch a flight" in the Elgin Area.
Ice Cream Flight at The Milk House
The Milk House in Pingree Grove is a beloved ice cream shop known for it's farm fresh ice cream made from locally sourced products. Plus, the creators at Milk House challenge the status quo by creating unique and inventive flavors. Grab a flight to include a classic favorite like chocolate or cookies and cream. Or get wild and sample new or seasonal offerings.
Some fan favorite flavors that are completely unique to The Milk House are:
Movie Night – a buttery base with chocolate chunks/ M&Ms
S'mores – toasted marshmallow ice cream with chunks of graham cracker and chocolate
Santa's Cookie's and Milk- features sugar cookie chunks and festive sprinkles
*Seasonal and new style favorites may or may not be available. Follow The Milk House on Facebook to see flavor announcements.
Themed Martini Flights at Martini Room
Not only is the Martini Room an award-winning cocktail bar, but they roll out specialized flights themed for the season. In the Summer you can expect bright and refreshing flavors like citrus and during the holidays flavors like candy cane and gingersnap may make their way into the mix. Of course, we think the BOO-tiful Halloween flight is to die for. And don't forget, you can even order a flight online to bring home to enjoy!
Coffee Flights at Eastside Café
Don't be fooled, coffee is not a simple drink. With so many different kind of beans and flavor add ins, unless you order the exact same thing form the exact same place, no two orders are alike. Test out the waters with a coffee flight! Warm and iced coffees are available and each flight is made to order. Management at Eastside Café is so wonderful, you can mention what kinds of flavors you like for a flight experience you'll adore.
Beer Flights at Emmett's Brewing Co. & Black and Gray Brewing Co.
Beer lovers, this entry is for you! Like coffee, no two beers are alike so why not try what our local craft beer makers have to offer. Black and Gray Brewing Co. is locally owned with one location in East Dundee. While you are able to find packs at select retailers, getting it straight from the tap is a totally different experience. At Emmett's Brewing Co. you can sample 5 different beers including their award-winning Munich Light. Emmett's is also a full-scale restaurant, so if you like to snack while you sample, Emmett's in the place to go. Both of these local crafters have a rotating menu, meaning you can try out the fan favorite staples while trying a seasonal or new recipe brew.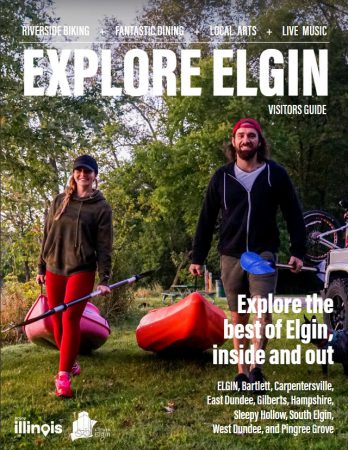 Visitor's Guide
Get our Visitor's Guide for all you need to know about the Elgin area.
Read Your Guide