Discover historic homes and preserved landmarks in Elgin
Any urban planner will tell you that every great city is born of good design. Ma Yansong, founder of internationally acclaimed MAD Architects, said that architecture is about experience—not just what you can see but what you can touch and feel. It is that experience that Explore Elgin Area hopes to help you design when planning your next architectural trip to the Elgin area.
Over the years, the city of Elgin has invested significant resources into historic preservation and the celebration of its most architecturally and historically significant buildings. Since 1986, the Elgin Heritage Commission has annually awarded plaques to Elgin property owners who have completed research on their homes' architecture and history. Each plaque features information about the property owner's home.
Historic Elgin is a comprehensive resource containing architecturally and historically significant data on hundreds of structures in the city limits. In addition to telling the story of Elgin's myriad historic districts and city landmarks, an interactive Google map offers users the opportunity to access photos, information about each home's history and architectural details including style, house plans and structural information on each highlighted home. Users can also design their own self-guided walking or driving tours with Google Maps integration and even listen to audio files about each home on their mobile devices at each stop along the tour.
Historic Elgin House Tour
In addition to Historic Elgin, there are annual events that draw thousands of visitors from around the suburbs to participate in unique architectural tours. The most celebrated of these events is Elgin's Annual Historic House Tour presented by the Gifford Park Association. Now in its 38th year, the Historic Elgin House Tour is an educational event that offers something for architectural aficionados of all kinds, including architecture, history, home remodeling, interior decorating, gardening and more. The interior tours of the homes are guided and interpreted by volunteer docents, and the houses can be toured in any order. Each year, the Historic House Tour highlights homes in a different historic Elgin neighborhood. Be sure to wear comfortable shoes and allow yourself the full day to view each of the homes.
Proceeds from the house walk have allowed the Gifford Park Association to support the Elgin community by donating to the renovation and restoration of the National Street Depot, the Nancy Kimball Cobblestone home and the Laura Davidson Sears art gallery as well as multiple homes in the Historic District. Advance tickets typically go on sale in August. Visit the Historic Elgin House Tour website for more information.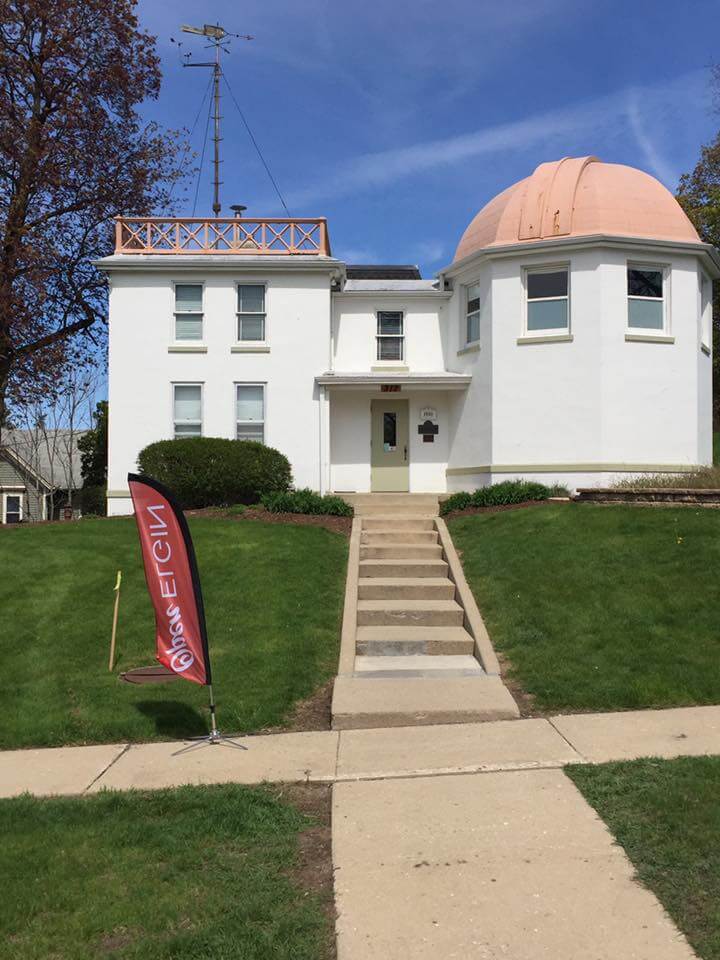 Open Elgin
Another architectural tour that has popped up in Elgin over the last couple of years is Open Elgin. Similar to the popular Open House Chicago event, Open Elgin's free, self-guided walking tour shines the spotlight on dozens of unique and historic commercial buildings that open their doors to the public for one afternoon. Among the popular tour stops included on past tours are the School District U-46 Observatory/Planetarium, which is on the National Register of Historic Places, and the Illinois Second District Appellate Court, whose second floor was originally designed to provide overnight accommodations for judges in the 1960s. Open Elgin's website also features an interactive map and architectural and historic details about each building on the tour.
Downtown Elgin
Downtown Elgin is a historic architecture-lover's dream. The Elgin Downtown Commercial District was added in 2015 to the National Register of Historic Places. Elgin's downtown is a traditional, small, central city business district with pockets of commercial buildings from the mid-19th century through the 20th century. Architectural styles run the gamut from Art Deco to Chicago School to Mid-Century Modern. The downtown district is significant due to its association with commercial and business development between 1873 and 1964.
The centerpiece of downtown's architectural "sites-to-see" is the Elgin Tower Building. This 15-story Art Deco building, which was built in 1929 and was once home to Home National Bank, recently found new life after being repurposed into a residential luxury apartment complex. From the limestone columns topped with hand-carved eagles to the marble- and brass-appointed lobby to the newly restored copper-case clock, the Tower Building is a can't-miss stop on your exploration of Elgin architecture.
Another must-see tour stop is the Gothic-inspired Elgin Professional Building. As Elgin's oldest skyscraper—built in 1927—the Professional Building's lobby, replete with marble and dark wood accents and original 1920s elevator doors, is an awe-inspiring journey back in time. The eighth floor has been repurposed into the Elgin Art Showcase, which houses performances and events in a cozy, scenic venue.
Speaking of houses, you can't design an Elgin architectural tour without including some of Elgin's many storied houses of worship. First Congregational Church's "church-in-the-round" design with intricate stained-glass windows and First United Methodist Church's iron steeple are just a few unique facets that visitors to Elgin's Holy Hill can appreciate.
Other Elgin area sites that tourists should plan to visit are the David C. Cook building and Pratt's Castle in the NorthEast Neighborhood Association of Elgin, Old Main (home to the Elgin History Museum), Lords Park Pavilion and the Elgin History Museum in picturesque Lords Park and Elgin Fire Barn No. 5.
Frank Lloyd Wright's Muirhead Farmhouse
Just a few miles west of Elgin, no architectural enthusiast should miss a chance to see the Frank Lloyd Wright-designed Muirhead Farmhouse, the only known farmhouse designed and built by Wright in his lifetime. The home is open for tours on select dates between February and October. Descendants of the Muirhead family still live in the home and can share the letter exchanged between the family and Frank Lloyd Wright. Visit the Muirhead Farmhouse website for reservation and booking details.
Studying Architecture in Elgin
Study architecture at Judson University in Elgin, located just outside of Chicago. Judson's fully accredited program is widely acknowledged for its innovative approach to architectural education and its context within an evangelical Christian institution. The program is housed in the Harm A. Weber Academic Center, a state-of-the-art LEED Gold building, where students study architecture in one of the greenest buildings in the United States. Explore Judson's architecture program.
Plan your visit to explore Elgin's architecture.
[Sources: Historic Elgin website, Open Elgin website, Gifford Park Association website, City of Elgin website, Muirhead Farmhouse website, Historic Elgin House Tour website]