Finding Your Perfect Wedding Venue in 4 Easy Steps!
Planning your dream wedding doesn't happen overnight. In fact, it takes months of planning, testing, tasting and touring. With so many options available in the Elgin area, it can be exhausting and overwhelming. It's time to put the joy and fun back into wedding planning. Here's how you can find your perfect wedding venue in just 4 easy steps, and visit our Wedding Venues page for more info!
Step 1
Contact us!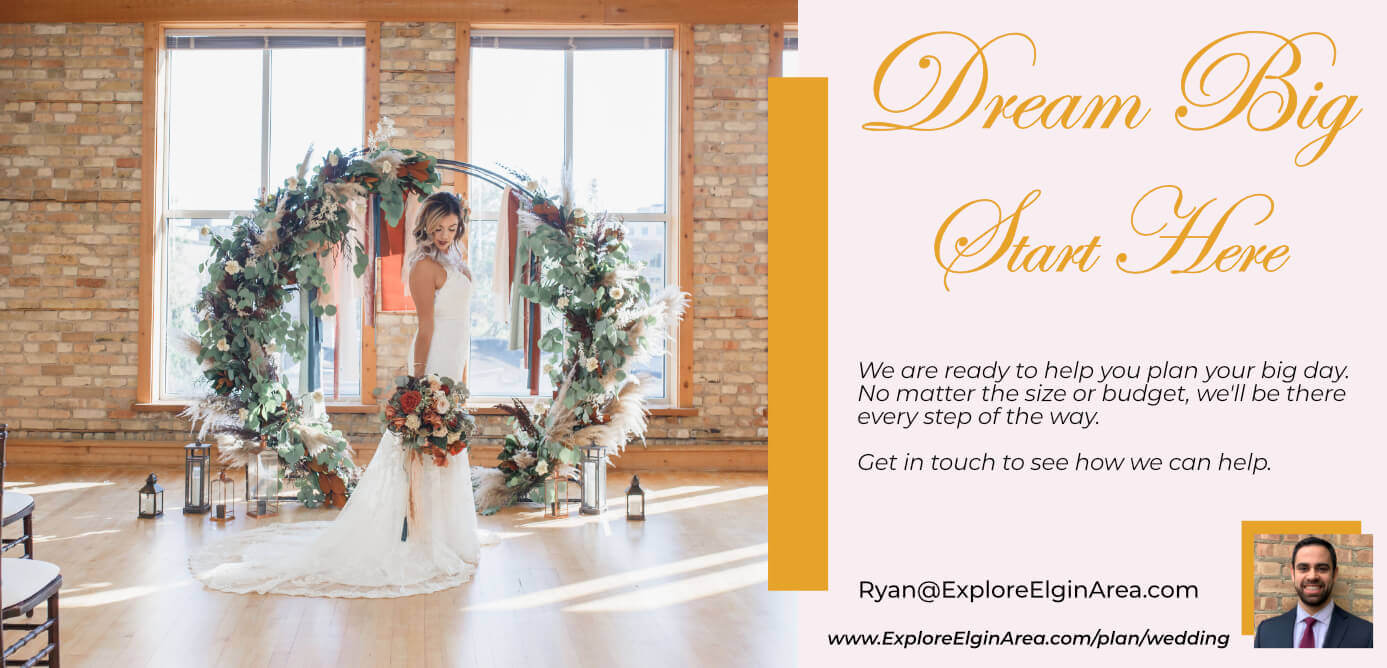 Many don't know this but the Elgin Area Convention and Visitors Bureau helps couples with their wedding planning process. Being a partner to many businesses, we have close relationships with the wedding venues in Elgin and in our 9 other surrounding communities. We know prices, capacity and amenities, so you can stop spending hours on the phone and online, researching and compiling information because we already have it! Plus, we make getting you that information easy, by meeting with couples one-on-one, over the phone, or through email. If you're ready to make this first step, send us an email!
Step 2
Review the Options
After we compile a list of options based on your wants and needs; you'll want to sit down and review what options you like the most. Letting us know which ones you like best helps us with the next step, touring.
Step 3
Touring
Once you've provided us with a list of venues we will ask for your availability, and from there begin to arrange site visits. Knowing which venues you want to see the most helps us when scheduling these tours to make sure you're seeing everything you want to.
Step 4
Making the Decision
At this point you will have received a wealth of information from us about venues that will work best for you. And you will have also gone on a few site visits. Now you have everything you need to select the venue that best supports your ideas, needs, and budget. All you'll need to do is compile information to decide on your perfect wedding venue. And even if you still haven't found it, we'll work with you until you do.
If you liked this, check out these posts!
#ExploreElgin