Holiday Shopping in the Elgin Area
Let the Elgin area community be your one stop shop this holiday season!
It's almost time to ring in the holidays, which means hitting the stores. Whether it be online or in-store, the Elgin area can be a one stop shop to discover truly unique finds for that collector friend or give the gift of a great meal or brew to your foodie friend. But no matter who you're shopping for, Elgin area local businesses are here to help you find the perfect gifts. Now with many of our businesses online, shopping local has never been easier! Check out our gift-guide to navigate your holiday list while supporting local business.

Foodie Fanatics
Craft Beer Connoisseurs
Looking for something different and brewed right here in the Elgin area? Arrange a curbside pickup or carryout order with Emmett's Brewing Co. to fill up a growler, grab a 6 pack or bottle of wine. You can even gift a beer club membership for a one-time payment of $30! Visit Black and Gray Brewing Co. for a large selection that includes ales, stouts, IPAs, and ciders! Order to-go in the form of 64oz growlers, 25.4oz crowlers, or 4 packs.
Grab Chicagoland brews like Crystal Lake Brewing and Wolfden Brews, without leaving the Elgin area at Plank Road Tap Room. You can also try a selection of products from out of state operations like Allagash Brewing based in Maine which only distributes to 17 states!
Never Ending Sweet Tooth
Sweets like candy and baked goods are plentiful here in the Elgin area. In fact that's one of the reasons we ranked #6 in a national list from SmartAsset as one of the best places in the country to celebrate Halloween. Halloween may be over but these goodies can be found year round!
For homemade baked goods like pies, cakes, breads, cupcakes and more head into Herb's Bakery, a family-owned and operated business for 2 generations! For those who adore a good breakfast donut, sandwich, or coffee, CRAFT Donuts + Coffee is the way to go. Choose from a wide selection of their homemade donuts to add a little sweetness to a holiday morning.
Who doesn't love and old fashioned candy store? Finding stocking stuffers has never been easier with our local candy shops. Around the Corner Candy has a specific Holiday section online for themed candy and merchandise. There's also Cook's Sweet Boutique who brings a unique collection of sweet goodies like caffeinated chocolates and candies from different cultures!
And ice cream lovers will find some of the best homemade locally sourced and ice cream with a variety of unique flavor choices you can't find anywhere else at The Milk House. Also husband and wife team have recently been recognized as an Illinois Maker from the Illinois Office of Tourism!
Caffeine Addict
If you shopping for someone who just isn't themselves without a cup of coffee, you're in luck! Because there are a large number of locally owned coffee shops and cafes to purchase from. Arabica Café features all kinds of coffees from just black coffee to lattes, macchiatos and blended beverages. Plus their selection of whole bean coffees from Cafés Richard make a great gift! And if you're looking for coffee mugs check out CRAFT Donuts + Coffee's merchandise page, their ceramic and to-go mugs make great gifts!
The Snacker
Salty, sweet or savory? Because that one friend or coworker who always has a snack to share will love a delectable treat as a present! Mama Lee's Gourmet Popcorn offers different taste experiences throughout their homemade popcorn selection. Cheddar bacon, caramel apple, and cheesy jalapeno are just a few fan-favorite flavors. Fischer Nuts also provides a large amount of flavor profiles to make picking a new, fun, or favorite flavor easy. Visit them online to see where you can buy Fischer Nuts nearest to you!
Fitness Fiends
Namaste
In the Elgin area, you'll find many yoga practitioners and enthusiasts. And there are many different fitness experiences at each of our locally operated yoga businesses. The gift of a professionally led class might just be the perfect gift for your fitness-centric friend who's been extra stressed this year.
Vida Yoga and Fitness in downtown Elgin is a favorite for Elgin locals. This is because classes range from yoga for different levels of experience to full body fitness training classes. Consider trading the membership to a crowded gym to a more intensive classroom setting! You can also unwind your mind at Goat Yoga Chicago at Reverse the Kerrs Farm. It's exactly as it sounds. Combine the peace of mind from yoga with the uncontainable joy of animals for the ultimate rejuvenation experience.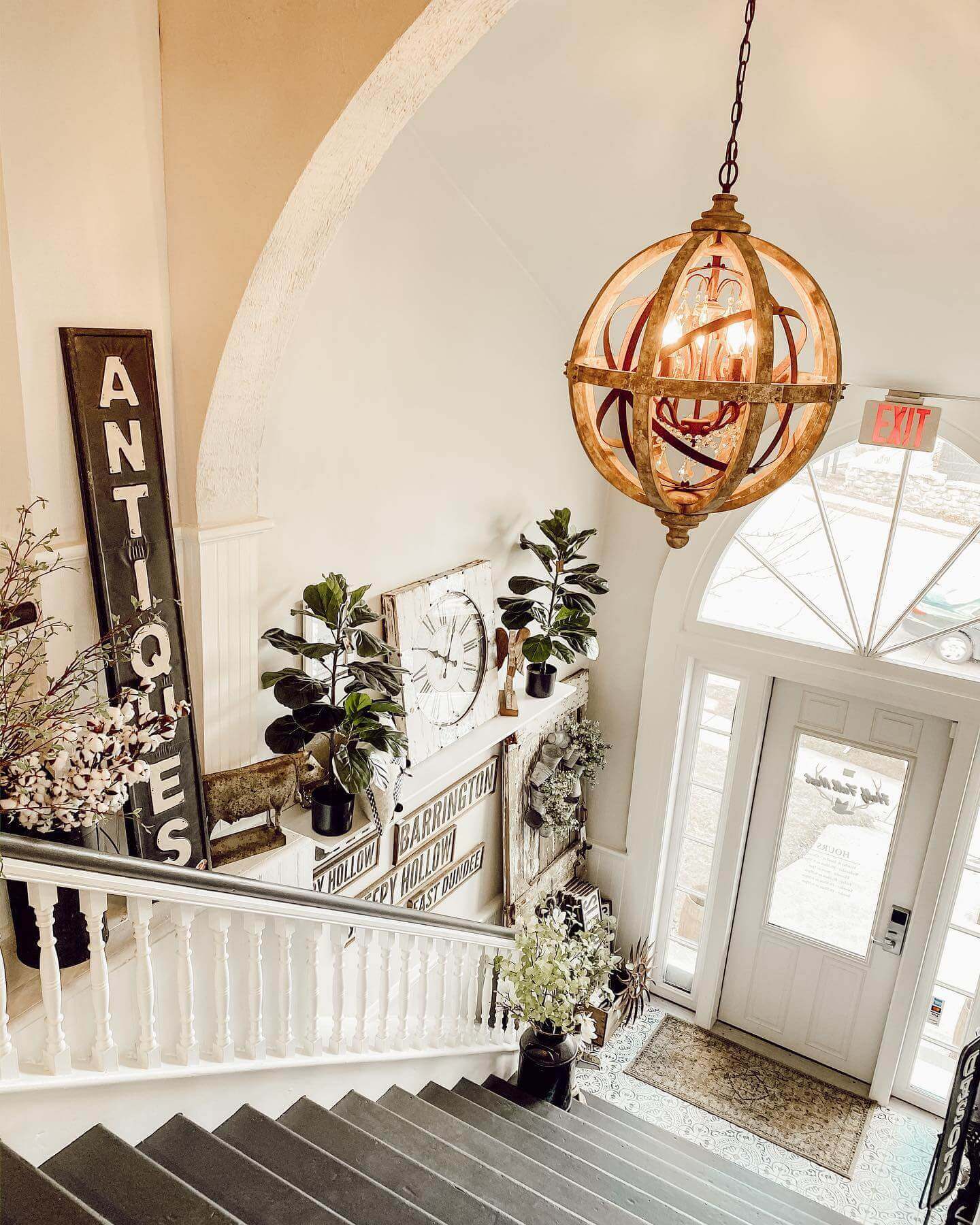 The Hospitable Host
Home is Where the Heart is
It seems like everyone know someone who has fully released their inner Marth Stewart. But, these folks can be so difficult to find gift for. However, there are three Elgin area boutique shops that are a must see. With ever- changing stock and goods that make perfect gifts for any occasion.
Visit The Half Full Nest to view their "carefully curated collection of all things lovely for the nest and beyond." Find charming interior décor as well as other products like honey, loose leaf teas, and personal accessories.
The East Side Café (formally The Uncommon Palate) also provides a very unique shopping experience centered around the taste buds! Recently new flavor infused olive, and balsamic oils hit the shelves. And shopping here is an experience all its own since you can order a drink or snack while you browse.
Lady Bug Lane is an adorable shop that's a perfect stop for candles, accessories, and décor. You never know what you're going to find at Lady Bug Lane which makes it a perfect start if you don't know what you're looking for!
Home Upgrades
Know a friend who has been complaining about their home and wishing for a remodel? Help them out and grab a gift card from the experts at Boxwood Home Design and Cabinets. Because kitchen cabinetry, accessories, lighting, and door fixtures are all available for purchase and will help make a house feel like home.

Nostalgia Nuts
Step Back in Time
Have a friend who loves all things retro? Experience a time jump by giving the ultimate arcade experience at the Underground Retrocade in West Dundee. Forget quarters – a $15 entry fee is all you need to play all day long! Gift certificates are available and can be delivered electronically. Be sure to check out their age guidelines online to see if supervision is necessary.
For those who love the sound of nostalgia, stop by Rediscover Records in downtown Elgin for a huge selection of records from all genres. Discover new releases on vinyl or step back and review classics! And for other types of décor and goods from times gone by, be sure to give Midwest Retro a visit!
Plant Parents
Grow the Collection
They clean the air, reduce stress, increase productivity, and can even boost creativity. A desk or floor plant is a wonderful gift for someone whose transitioned to working from home this year. And there are a number of wonderful locally owned and operated businesses in the Elgin area to choose from. We recommend visiting Platt Hill Nursery (Carpentersville), Trippots (West Dundee), and Hampshire Farms.
For Those Who Are Too Difficult
Gift Cards
If your worried about buying the right thing, forget the stress and go for the gift card. Whether it be one of the Elgin area's many boutique shops, or a fan favorite brew or meal- many Elgin businesses offer certificates or gift cards. You can still shop local and ensure your friends and family get the gift they love most!
Hit the Mall
Need to browse for ideas? Spring Hill Mall in West Dundee is home to popular stores like H&M, Barnes and Noble and Bath and Body Works.
If you liked this…
Experience the holidays by being part of Explore Elgin Area's Lights. See the most beautifully decorated homes or register your home for a chance to win up to $300 in prizes!
#ExploreElgin