Indoor Activities To Do With The Kids This Winter
Indoor Activities To Do With The Kids This Winter
We live in the Midwest, which means at some point we'll inevitably have snow. Sometimes, we all need a break from the cold. It doesn't need to be an all-day drag when the Elgin area has so many fun activities at hand! We've gathered a list of some of our favorite kid-centered places to visit.
Swimming & Rock Climbing
Centre of Elgin – Adventure Island
If recreation and water go hand in hand for you, you'll flip for the aquatics facilities at The Centre of Elgin! With three pools, you're sure to find the right use, depth, and features for your every swimming and splashing need.
Website: http://centreofelgin.org/aquatics/open-swim/
100 Symphony Way
Elgin, IL 60120
0.4 miles from Elgin Metra Stop
Bartlett Park District – Splash Central
Carry on with summer-style fun all winter long with an open swim at Splash Central.
Visit the website for more details: http://www.bartlettparkdistrict.com/facilities/aquatics/indoor-pool.aspx
696 W. Stearns Road
Bartlett, IL 60103
1.2 Miles from Bartlett Metra Stop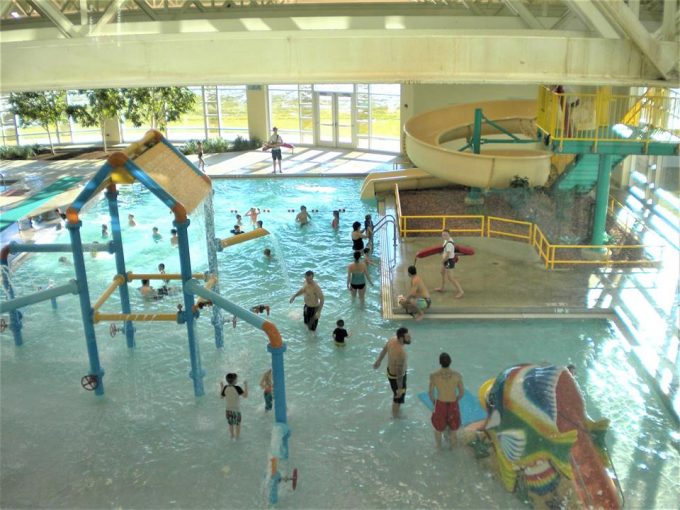 Rock Climbing
The wall at the Centre of Elgin consists of two vertical sides; one slab, and one slight overhang, beginners can easily ascend up past the second-floor balcony. The dimensions measure 32′H x 28′W with a total of 1165 sq. ft. It provides climbing on five ropes and two auto belays. The routes are designed for all climbing abilities from kids to adults.
Climbing schedule: http://centreofelgin.org/athletics/climbingwall/climbing-wall-schedule/
100 Symphony Way
Elgin, IL 60120
0.4 miles from Elgin Metra Stop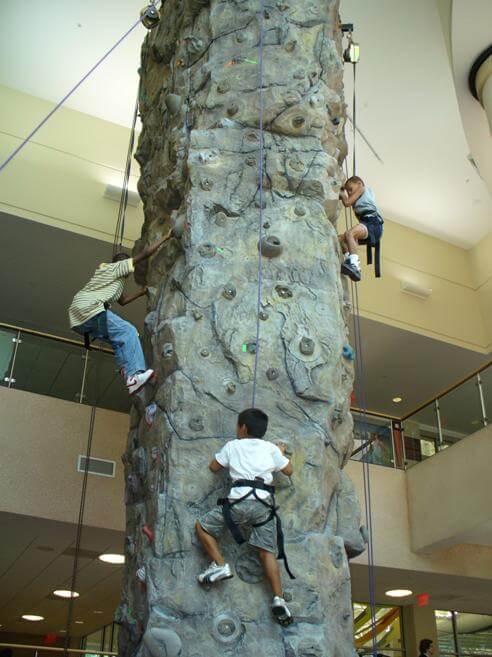 Library Fun
Gail Borden Public Library – Rotating exhibitions and unique kid and toddler-centered classes.

This library often has rotating, kid-friendly exhibitions that are interactive. Be sure to check out their website to see what is being featured. There are also free classes and drop-in activities geared toward families, kids, and little ones.
270 N Grove Ave
Elgin, IL 60120
0.7 Miles from Elgin Metra Stop
Fox River Valley Public Library District
Dundee Library & Randall Oaks Library
Offering year-round reading programs, and hands-on activities to launch interest in science, technology, engineering, and math, you'll be sure to find something for your kiddos this winter!
Website: https://www.frvpld.info/home
555 Barrington Avenue
East Dundee, IL 60118
5.3 Miles from I90 & Randall Rd.

Play Places
Bumble Bee Café
Bumblebee Play Café is an indoor playground, family café, and birthday party venue located in Elgin, IL. As one of the largest indoor playgrounds in the area, they offer 2 separate playrooms, 6 birthday party rooms, and a café. There's something for everyone!
Website: https://bumblebeeplaycafe.com/
1015 N Randall Rd.
Elgin, IL 60123

Epic Air
A 30,000 square foot indoor trampoline park located in Elgin, IL where kids of all ages can enjoy open jump, basketball, dodgeball, cage ball, foam pit, and Ball Blaster Arena. Every Friday & Saturday night for $20 Epic Air rocks the house with a live DJ, Club Music, or band. Epic Night is open to jumpers of all ages.
Website: https://www.epicairpark.com/
1675 N Lancaster Rd
South Elgin, IL 60177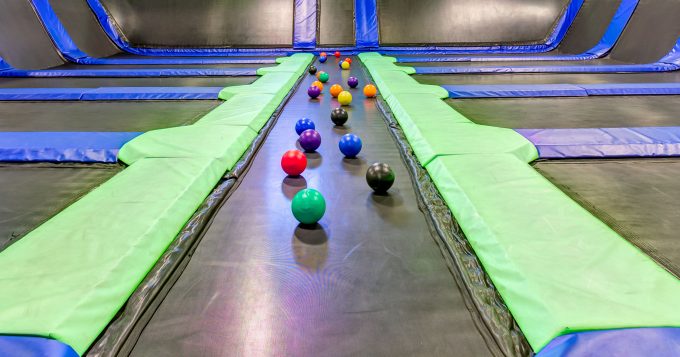 Arts
Side Street Studio Arts
Side Street Studio Arts hosts a monthly Drop-In called "Small Wonders" monthly throughout the winter. Their amazing professional artist-educators will be leading a variety of creative visual and performing arts activities that evening.
Interested young artists, aged 4-12, are welcome to attend for a $5 donation at the door.
Visit their Facebook event page: https://www.facebook.com/events/276414482987701/
15 Ziegler Court
Elgin, IL 60120
0.4 Miles from Metra Elgin Stop
Museums
Elgin History Museum
Through permanent and changing exhibits, the museum brings to life Elgin's rich heritage. Permanent exhibits include Elgin National Watch Company, the E. Maude and Carl Parlasca Native American Collection, and Elgin Road Race memorabilia.
Website: https://elginhistory.org/
360 Park Street
Elgin, IL 60120
0.7 Miles from Metra Elgin Stop
Elgin Public Museum
Built in 1907, the Elgin Public Museum is the only natural history museum in the Fox Valley area. The Museum offers exhibits and educational programs with natural history and cultural themes for families, school groups, Scouts, clubs, organizations, homeschoolers and anyone who wants to have fun while learning!
Website: http://www.elginpublicmuseum.org/
220 Grand Blvd
Elgin, IL 60120
1.5 Miles from Metra Elgin Stop