Indoor Attractions for Hot Days
Summer is a great time of the year to get out, take a vacation and explore. But sometimes extreme Summer weather can make doing those things seem unappealing or even unsafe! However, there are plenty of ways to spend a day or even an entire weekend getaway by visiting the Elgin Area's indoor attractions. Attractions that are perfect for when you're ready to explore but need to beat the heat. Click the button below each attraction to learn more.
Epic Air Trampoline Park
A trampoline park is a great place to go especially for kids. Exert energy out of the Summer heat and have a blast! -Includes jump times for younger children, and ability to reserve a jump time online. Waivers must be completed before starting.
Escape Rooms
An indoor adventure perfect for families, date nights or hang outs with friends. Escapade 360 has rooms for different difficulty levels while PANIC Escape features room themes fit for a more adult audience.
Underground Retrocade
Underground Retrocade is an amazing nostalgic experience. Outfitted with numerous arcade game cabinets throughout 2 floors and pinball machines this indoor attraction is perfect for escaping the heat. Costing only $15 for an all-day wristband, you can come and go as you please all day.
Grand Victoria Casino
The casino is a great stop for the grand night-out feeling without having to endure the elements at an outdoor event. Open and continuing with health and safety practicing for peace of mind, gaming tables, slots and the restaurants are open for a full night out in one place.
Indoor Ice Sports
This is a truly unique option offered by Canlan Ice Sports in West Dundee. Classes and other scheduled play and sport options are available but there are also drop in times for hockey and ice skating. These are great for when the intense heat calls for a quick change of plans.
Rock Climbing Swimming & More at The Centre of Elgin
The Centre of Elgin is so full of activities and options for all ages that there's always something to do when you're forced indoors. Activities/amenities include: a rock climbing wall, pickleball, lap pool, Adventure Island water play area, dance, taekwondo, and ceramics.
Nature Centers
It can be disappointing when the outdoors isn't hospitable enough for the plans you've made. A great way to enjoy nature indoors is by visiting a nature center! There are two in the Elgin area located in Bartlett and Elgin. Both centers frequently host events and have indoor facilities with displays and other fun learning opportunities.
Museums
The Elgin Area is home to a variety of museums. So much so that you could actually make a whole day of it! Prices range from $1-$5 on average for a ticket and can include guided tours throughout the museum.
Enjoy a Concert
Situated in the Elgin Area you'll find a concert venue that has recently been named one of the best music venues in the Chicagoland area: RocHaus. With events back, their event calendar continues to fill. Along with a number of seating and price options too it's easy and affordable to catch a great show!
Take an Architecture Tour
There are many types of architecture tours in the Elgin Area. But the one that features the most indoor space available is BAPS Shri Swaminarayan Mandir Chicago. This Hindu temple (also known as a 'Mandir') was constructed out of Turkish limestone and Italian marble, and hand carved by over 3,000 artisan before being polished and assembled to create this awe-inspiring structure.
Classes, Activities & More at Gail Borden Public Library
Gail Borden Public Library is one of the largest libraries in Illinois and it's full of things to do. Step indoors to cool off and enjoy classes and activities for all ages with their designated spaces like the KidSpace, Middle School Zone and Studio 270 for high schoolers. Come stop by to see if there's currently an exhibit on display or rent some binoculars and gaze over the Fox River to see local fauna up close!
Grab a Local Brew or Cocktail
When your next friends night out rolls around, stop into one of the Elgin Area's best drink spots! Local brewers, and craft cocktail makers plus a distributor of all kinds of craft brew that can't be found anywhere else. Check out our Brews & Bars blog to see more about the stop spots to grab a drink in the area!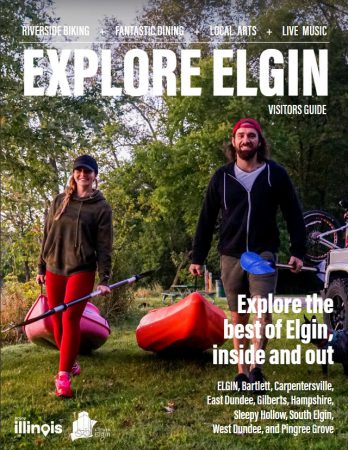 Visitor's Guide
Get our Visitor's Guide for all you need to know about the Elgin area.
Read Your Guide