Stops on the Fox
Hit the trails and enjoy the outdoors! Grab or rent a bike, and discover highlights of the Fox River Bike Trail before the seasonal shift. Check out our Stops on the Fox to enhance your next bike trip experience. We will be covering the sections of the trail located in the Elgin area, including: South Elgin, Elgin, East Dundee and Carpentersville. Keep reading to learn more about attractions, parks to take a break at, restaurants and shops along the Fox River Bike Trail to plan your next trip!
Let's Get Started!
Main Street Bicycles
Need a ride for the trail? Start your journey here in Carpentersville. Here you can rent a bike starting at $10 an hour and have a wide selection of bikes to choose from. With plentiful parking within walking distance from Main Street Bicycles it's easy to get rolling! Take on the trail and come back to return your rental for an afternoon or a full day trip!
Attractions
Escapade 360
Escapade 360 is the perfect complement to an afternoon on the Fox River Bike Trail, located just a few feet away from the trail in downtown Elgin. Their family-friendly themes are fun and safe for guests ages 12 and up. Escapade 360 has implemented a health and safety practice to ensure the comfort and well-being of attendees. To learn more about what practices are being implemented, visit the health and safety page on their website.
Grand Victoria Casino
Perched atop the spectacular Fox River, Grand Victoria Casino boasts over 1,100 exciting slots, a countless variety of Vegas-style table games, acclaimed gaming promotions and giveaways, four extraordinary restaurants, including award-winning Buckinghams, and unparalleled customer service. It all makes Grand Victoria Casino the best gaming, dining, and entertainment destination in all of Chicagoland. Currently Grand Victoria Casino is still operating with capacity limitations in place and is prioritizing new health and safety practices. Visit their health and safety page for more information.
Public Art

The City of Elgin is changing and growing; over the last six years, Elgin has defined itself as a "City of the Arts." The Elgin Cultural Arts Commission (ECAC) saw a need to develop a plan and system to facilitate public art. Now all over the downtown Elgin area are many pieces of art like sculptures and murals. Check out the public arts tour to see where the Elgin public art pieces are located, and many are just a few steps off the Fox River Bike Trail.
Walton Island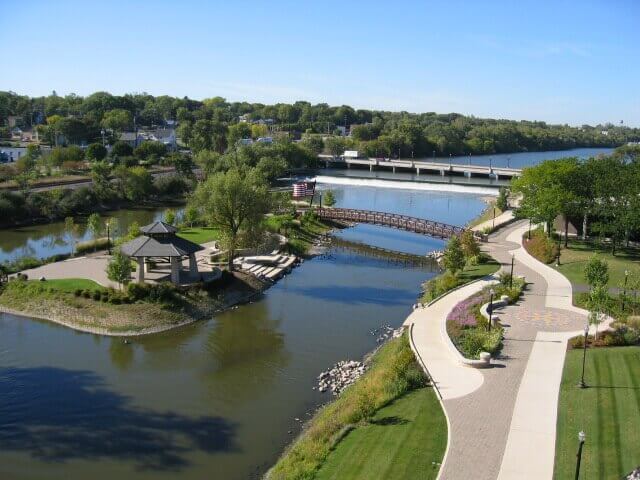 A perfect place to have a picnic after picking up some lunch from a nearby restaurant in downtown Elgin. Walton Island, located just south of the Elgin Dam on the Fox River in downtown Elgin was created in the WPA program of the 1930's. It was dedicated to the City by the Izaak Walton League. The 4.5-acre parcel provides walking paths, fishing opportunities and a pavilion shelter for special events. The gazebo is an excellent spot to hold a wedding ceremony or take wedding photos.
Gail Borden Public Library
This library is one of the largest in the state of Illinois! This stunning architectural piece is stunning to look at, sitting on the Fox River overlooking trees and has been a watching place for bald eagles in the area. As restrictions are being changed, we recommend checking in on Facebook to see what level of operation they are running at. But nonetheless, this makes an excellent stop off the path for a photo op or a scenic place to take a break.
Pratt's Castle
A man's home may be his castle but when was the last time you actually saw a castle in a residential neighborhood? Medieval history buff Harold S. Pratt built this imposing replica in 1937. His real home was nearby on Douglas Avenue. Pratt modeled the design on a castle he saw along the Rhine River while serving in World War I. This building was a private museum housing Pratt's personal collection of medieval artifacts. The 50 foot tall tower is surrounded by a mini-moat and a working draw bridge. The castle is still in private ownership, although, Pratt's collection is no longer here. So, please respect the privacy of those living here and stay on the bike path. Feel free to take pictures and don't forget to use #ExploreElgin!
Parks to Take a Break At
Vasa Park, South Elgin
Vasa Park is a tranquil 25 acre property situated along the beautiful Fox River, featuring towering mature oak trees and wide open space. This park is an excellent stop for taking a rest from your biking adventure. Vasa Park holds numerous community events throughout the year, celebrating Scandinavian and Nordic traditions, including: music, art, crafts, food, and dance. These events are open to the public and persons of all ethnicities are welcome to join and enjoy. Vasa Park also serves as a learning center for local schools and scouting organizations.
Panton Mill Park, South Elgin

Concerts in the park, art festivals, martial arts demonstrations, family reunions, weddings, walk-a-thons and other events will have a showcase location in South Elgin's Village Center. Panton Mill Park, home of Riverfest and adjacent to Village Hall, has recently undergone extensive renovations that include, a permanent sound stage, large pavilion, restroom, concessions building, walking paths, streetscape lighting and a splash pad. We highly recommend following the Village of South Elgin to be notified of events taking place at this beautiful new park! Please note that restrooms here are closed for the season.
SEBA Park, South Elgin
Named after the South Elgin Business Association (SEBA). This park along the river is a great place for picnics outfitted with many tables and grills. This park includes a playground, great fishing opportunities and just a lovely place to observe nature. During the Summer months the village of South Elgin runs a Food Truck program where a different food truck sets up at SEBA Park each week.
Festival Park, Downtown Elgin

Both a neighborhood park and an entertainment venue, Festival Park provides a beautiful riverside setting with unique playground and spray park – if it's summer, wear your swimsuit.
Restaurants
There are a number of unique dining opportunities along the Fox River Bike Trail. In fact, the trail runs right through the culinary district in East Dundee! For information about hours and services we've included links below to each location's Facebook page and website.

Aliano's Ristorante


Bandito Barney's Beach Club


Black and Gray Brewing Co.



Duke's Blues and BBQ



Mockingbird Bar + Garden



Van's Frozen Custard and Burgers



Other Dining Options
If you're looking for more options in the Elgin area and are willing to take a small detour off the trail. Downtown Elgin features numerous dining opportunities like a Dr. Who themed cafe, thai, sushi, and more!
Shops
#ExploreElgin
Visitor's Guide
Get our Visitor's Guide for all you need to know about the Elgin area.
Read Your Guide