The Fox River Trails pass through many forest preserves and by popular attractions, offering weary cyclists and paddlers the perfect excuse to take a break. Here are just a few favorites enjoyed by locals and visitors alike.
Fox River Shores Forest Preserve
Located alongside the river in Carpentersville, Fox River Shores is home to some unusually steep, swampy habitats with rare plants like Vanilla Grass. In spring, the hills surrounding the Fox River blossom with crabapples and plums. Bring your boat to take advantage of the launch or binoculars for an inspection of this natural gem and its inhabitants.
Tekakwitha Woods
Named after a beatified Mohawk Indian, Tekakwitha Woods is 65-acre forest preserve south of Elgin at the big bend of the Fox River. The preserve features hiking trails and a nature center with interactive exhibits exploring the history of Kane County.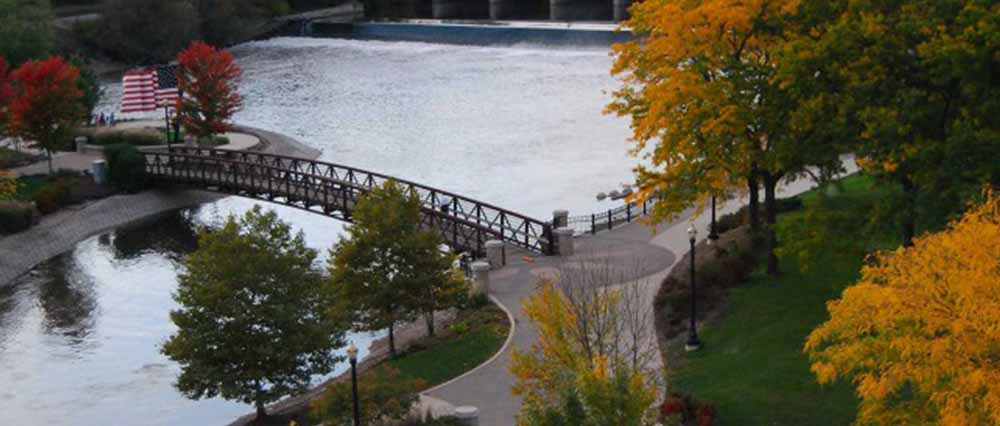 Gail Borden Public Library
This is the perfect spot for families to stop for a break while out exploring the Fox River Bike Trail. Grab some water, cool off and enjoy a donut or iced coffee from Roll-N-Donuts Cafe. Gail Borden Public Library is the third largest library building in Illinois and a community center for the region. The library attracts museum exhibits such as Looney Tunes and Lego Architecture.
Grand Victoria Casino
Adults exploring the Fox River Trails can stop for gourmet food, an adult beverage or even a chance at lady luck. Grand Victoria Casino is located right off the trail and houses four restaurants with options including gourmet burgers, a deli and a steakhouse. They also offer plenty of bike racks.
Van's Frozen Custard
Families have been riding their bikes to Van's, located along the Fox River Trails in East Dundee, since 2012. Riding a couple of extra miles does not seem so bad when frozen custard is waiting for cyclists when they arrive.
Dundee Depot Market & Visitors Center
Mingle with locals at this resting place popular with users of the trails. The Depot hosts a marketplace on Saturdays mid-May through October, with 40 vendors selling seasonal produce and baked goodies.
Keith Andres Bike Park
Highly skilled, daredevil riders hop off of the trail near Carpentersville and shred at this mountain bike and bmx park, complete with jumps and obstacles strategically placed throughout the 25-acre property.