Thanksgiving To-Go
Need some help with Thanksgiving this year? Keep reading to see what Elgin Area restaurants and businesses are ready to help prepare a full Thanksgiving dinner, other goods to bring along or are open on Thanksgiving!
Full Thanksgiving Dinner
Breakfast Urbano – Full dinner includes 1 main course, 3 sides and 1 dessert. Options are:
Entrees– Turkey or ham. Sides– stuffing, sweet potato casserole, mashed potatoes and gravy, cranberry sauce, spaghetti verde (spicy), spaghetti rojo and spaghetti blanco. Desserts – Pumpkin pie and pecan pie.
*Confirm order by 11/20 pick-ups are available 11/23, 11/24 and 11/25.
LEARN MORE →
---
Cafe Roma – Dinner and sides are available a la carte and include: turkey breast, mashed potatoes, green beans, stuffing, garlic cheese bread, candied yams, cranberry sauce, lasagna, Cafe Roma Promodoro sauce, Cafe Roma vodka sauce and penne pasta.
*Order by 11/22, order pick up is 11/24 from 11am-2pm.
LEARN MORE →
---
Copper Barrel on State – Dinner options are family-sized and individual. The family dinner includes: 2 pound turkey breast, 2 quart-sized sides, 4 cornbreads and homemade cranberry sauce (feeds 3-4) Quart side options are: soup of the day, cowboy baked beans, garlic mashed potatoes and mac n cheese. The individual dinner includes: 1/2 pound turkey breast, 2 individual side choices, cornbread and homemade cranberry sauce. Individual side options are: cowboy baked beans, slaw, garlic mashed potatoes, baked potato, soup of the day and a side salad.
*Orders can be customized. Orders must be submitted by 11/23 and pick up is on 11/24 from 4pm-8pm.
LEARN MORE →
---
Duke's Blues and BBQ – Dinner and sides are available a la carte and are: Turkey, ham, turkey breast, stuffing, mac, mashed potatoes, collard greens, green beans with bacon, cornbread and Momma's cheesecake.
*Orders must be placed by 11/19 and paid in full by 11/21. Pick up is 11/24 from 11am-5pm.
LEARN MORE →
---
Hart's Garage – Dinner includes: Slow-roasted turkey, stuffing, mashed potatoes, gravy, cornbread, green bean casserole, cranberry sauce and white chocolate pumpkin cheesecake.
*Orders pickup is on 11/24.
LEARN MORE →
---
Jimmy's Charhouse – Full dinners include serving sizes for individual adults and children. All meals include: turkey, mashed potatoes, stuffing, vegetable salad, cranberry sauce, bread and a slice of pumpkin pie.
*Orders must be placed by 11/22 and picked up 11/25, Thanksgiving Day from 11am-5pm.
LEARN MORE →
Sides and Desserts
AJ Cravings – Thanksgiving box of goodies that includes: brownies, strawberries, pretzels, Oreos and maple cookies.
*Orders need to be placed by 11/20 to avoid rush fees. Pick up is from 2pm-4pm on 11/24.
LEARN MORE →
---
Arabica Cafe – Dinner rolls and pastries. Pastries options include: cyclones (big ones and minis!), demi scones and bread pudding.
*Pick-up times start 11/23 and run through closing time at noon on 11/25.
LEARN MORE →
---
Around the Corner Candy – Chocolate turkeys in place setting and centerpiece sizes.
LEARN MORE →
---
Elder + Oat – Handcrafted pumpkin and pecan pie as well as a keto pumpkin cheesecake. Limited supply available.
LEARN MORE →
---
Mama Lee's Gourmet Popcorn – Thanksgiving popcorn mix with flavors of turkey, gravy, stuffing and cranberry.
LEARN MORE →
---
The Milk House – Ice cream cakes, pies and their Thanksgiving flavors available to-go. Pre-orders are no longer available. Grab and go options are limited.
LEARN MORE →
---
Mozzafiato Gelato and Coffee – Offering gelato pies like the White Chocolate Mocha pie, Chocolate Pecan Brownie pie, Butter Pecan pie and the caramel apple cheesecake pie. You can also custom order a gelato pie or browse their other desserts and place an order online!
*Orders must be placed by 11/21 and picked up on 11/24
LEARN MORE→
Open for Business
Black and Gray Brewing Co. – Stop by for Drinksgiving the day before Thanksgiving for deals and toasting to all you're grateful for.
LEARN MORE →
---
Paul's Family Restaurant – Open until 2pm and turkey dinners will be first come first serve with the possibility of running out.
LEARN MORE →
---
Rosie O'Hare's Public House – Open 11am – 11pm Thanksgiving Day. The regular menu will not be available as $20 turkey dinners will be the only option for the holiday.
LEARN MORE →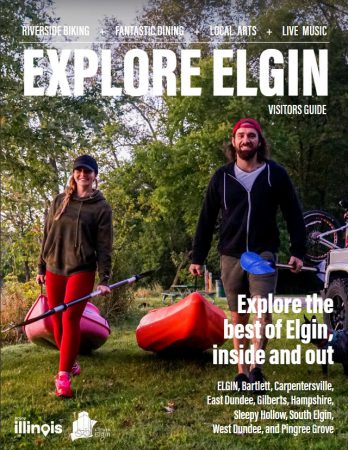 Visitor's Guide
Get our Visitor's Guide for all you need to know about the Elgin area.
Read Your Guide