Things to do at Home in the Elgin Area
Recently, you have probably found yourself at home more frequently. And now might be wondering how to spend this extra time; more importantly how to de-stress and thwart boredom. There are a number of things you can do right at home, and many of our local businesses have gone digital to reach our community from the comfort of their homes.
Here's a list of things you can do to relax and stay entertained while at home in the Elgin area.
Stay Active
The Planet Fitness in Elgin has begun live-streaming through Facebook on a daily basis. Starting at 4pm you can get moving with their trainers and the occasional celebrity guest for a 20 minute or less workout accessible to anyone – no equipment needed!
Vida Yoga and Fitness has also started a daily routine. Unwind with them every night at 9pm as you tune into a 30 minute Yin Yoga session. They are doing virtual classes as well, be sure to check out their Facebook page to learn more and stay up to date.
For years, the Elgin area has been promoting healthy living. You can find countless pathways perfect for taking a calming stroll. It's easy to find one near you and enjoy a nice day outdoors in one of our 10 amazing communities.
Attend a Virtual Event
Events taking place across the world have never been more accessible. Check out what events are going on world-wide and tune in. Eventbrite and Cvent  are great places to start looking for online events like concerts, speakers and webinars. Museums are offering a plethora of online tours and exhibits, Google Arts and Culture is a good place to start because it is acting as a hub for museums all over the world and has over 400 collections to browse.
We have created a driving tour of Elgin's Historic Commercial District. Take a nice drive and learn more about Elgin's history!
Currently planning a wedding? Imago Events is offering live virtual tours one-on-one with the owner Aimee Novelli. She will answer any and all questions you may have. Click here to schedule one now! For other questions let us know! Send us an email at ryan@exploreelginarea.com
If you're in the middle of a home search Watermark at the Grove has gone digital. Tour their luxury apartments and take advantage of their one of a kind deal of 2 months rent free on select apartments.
And if you like animals, don't forget to check out Elgin's, Reverse the Kerrs Farm. Famous for their goat yoga classes, they're now giving us tons of joy by postings many videos of the goats, including a few newborns!
Take on a New Project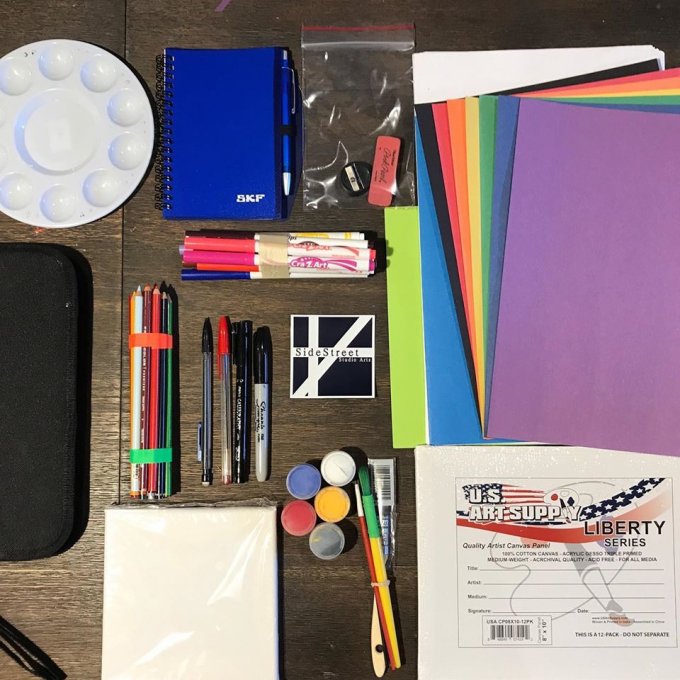 Want to get those creative juices flowing? Thanks to Side Street Studio Arts you will never run out of ideas. Side Street Studio Arts is devoted to continuing their ongoing partnership and support with the artists in our community. Each day they are releasing videos to keep us creative while at home. There have been a wide range of ideas and tutorials making it easy to try something new. And if you find yourself lacking the supplies… just send them a message and they will get you the supplies you need!
Stay Mentally Sharp
It's great to stay physically active but staying mentally active is just as important and provides numerous benefits. The Gail Borden Public Library in Elgin is the 3rd largest library in the state of Illinois, and they have dedicated themselves to making sure they're just as largely accessible virtually through their "Your Library at Home" program. Through this program you can tune into their Facebook page to watch their daily videos of multiple online programs done throughout the day. Be sure to check out their website for more online resources like the 24/7 eLibrary.
The Elgin Public Museum is also posting daily educational posts and going on "Facebook Field Trips" to outline all kinds of subject matter, perfect for kids at home.
Delve into history at home through the Elgin History Museum's online catalog of objects, photos and postcards.
Also visit the Explore Elgin Area Pinterest page where we have been uploading fun puzzles and word games!
Have an Indoor Picnic

Many restaurants have had to close their dine-in areas, but that's not going to stop us from enjoying our favorites restaurants. An indoor picnic or carpet picnic has become a fun way to enjoy local favorites while at home. Check out our list of restaurants and their services to find a great place to order near you! Create an interesting lunch by simply ordering delivery or pick up, layout a blanket and enjoy a great meal. Spice it up by also tuning into one of the many live-feeds being streamed from zoos or aquariums.
A new trend restaurants are introducing are take home kits so you and your family can make and enjoy favorites from home!
Head over to grab a family pizza kit from Billy Bricks in downtown Elgin. Starting at just $3 their Take n Bake pizzas are a great way to mix a meal with a fun activity!
Or if your craving that vacation, stop by Sammy's Mexican Grill to pick up some margarita mix!
Speaking of craft cocktails, Mockingbird Bar + Garden is now offering "Curbside Connect". Order your favorite cocktails or drafts online and pick it up in the growler! Now that's a way to bring in a stay-at-home weekend!
Elgin Public House has a "Create Your Own Cocktail" going as well! They're currently selling full kits that include all the ingredients you need to make cocktails like, Bloody Marys, Irish Mules and more. Available for curbside pick up or delivery!
See Us as you Stream
Spending more time at home makes catching up on those binge-worthy shows and movies effortless. Interested in seeing us on the big screen? See Elgin's Bluff City Cemetery in Nightmare on Elm Street (2010), or Sherman Hospital, in Contagion (2011). Fargo the TV show (2019) chose to shoot in Elgin because our historic homes district was the perfect place to capture their ideal time-period. You can also see us in Dennis the Menace (1993), Hoffa (1992), Four Friends (1981) and more!
Do you have a local business offering virtual experiences? Let us know!
Want more? Check out our other posts and don't forget to share what you're doing with us by using the hashtag #ExploreElgin