Trip Advisor's Best of Elgin
Stopping by Elgin but have limited time? Make sure you hit some of the essentials as told by Trip Advisor's 2021 Best of Elgin picks!
#1 Gail Borden Public Library
Gail Borden Public Public Library is one of the largest libraries in the state of Illinois. With a large selection of books and dedicated sections for all ages, this an essential stop for families. However the in-library cafe, quiet zones, occasional exhibits and eagle watching makes this library a good stop for anyone!
#2 Lord's Park
Inside this 108-acre park you'll find multiple areas outfitted with play equipment and trails. But most notably, you will find Lord's Park Zoo, the Elgin Public Museum, the Lord's Park Pavilion and the Lord's Park Aquatic Center. With so much happening here, it's a park worth visiting any time of the year.
#3 Elgin History Museum
For the curious adventurers, the Elgin History Museum brings the past to life. Visit "Old Main" the historic landmark that is the history museum, and see interactive exhibits about Elgin's humble beginnings and the city's most notable points in history.
#1 Al's Cafe and Creamery
Located in downtown Elgin's historic district, Al's Cafe brings a unique feeling of nostalgia of the days of the malt shop. Classic fare like sandwiches and burgers are available but Al's claim to fame has got to be the malts. Creamy and smooth with amazing fresh flavor. It's not unheard of to see people walking around downtown, malt in hand, even during winter!
#2 Elgin Public House
Looking for pub? Elgin Public House brings that pub vibe and combines it with a large selection of food. Plus the comfort food options like the mac and cheese and chili is amazing! Combine that with a drink from the bar to get the full Elgin Public House experience.
#3 Alexander's Cafe
Whether you're looking for a good breakfast the morning after a full day of adventuring or a stop to grab some lunch – Alexander's Cafe is a great choice! For breakfast you can choose from a variety of skillets, omelettes, pancakes and waffles. Or if you're wanting lunch, burgers, salads, paninis and wraps are available as well. And the best part? There's no restriction when you can order breakfast or lunch. Breakfast at 1pm? Lunch at 8am? No problem.
#1 Country Inn & Suites by Radisson
Amenities include: Pool, complimentary breakfast, free wifi internet, business center, fitness center, room service.
#2 Holiday Inn & Suites
Amenities include: Pool, free wifi internet, business center, fitness center, conference facilities, car hire, bar/lounge.
#3 Hampton Inn
Amenities include: Pool, complimentary breakfast, free wifi internet, fitness center, hot tub, shuttle bus service.
Get Started and Plan your Stay!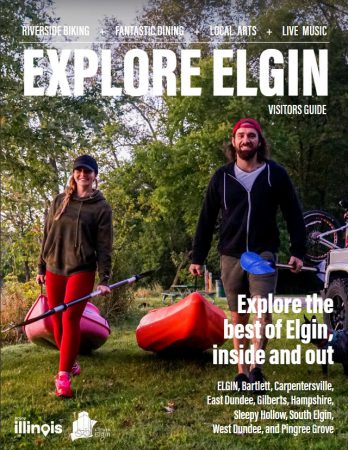 Visitor's Guide
Get our Visitor's Guide for all you need to know about the Elgin area.
Read Your Guide