Wedding Venues
The Elgin area is rich in picturesque locations for weddings. Located just 45 minutes from downtown Chicago, 30 minutes from O'Hare International Airport, and along the Metra Milwaukee District/West Line (MD-W), the Elgin area is an easily accessible destination where you can bring all of your loved ones together to celebrate this incredible event.
Wedding Venues
in the Elgin Area
There are more than 40 venues that can host wedding ceremonies and receptions in the Elgin Area. All the way from banquet centers to charming little spaces in historic buildings. The Elgin Area Conventions and Visitors Bureau also offers a choice of excellent hotels.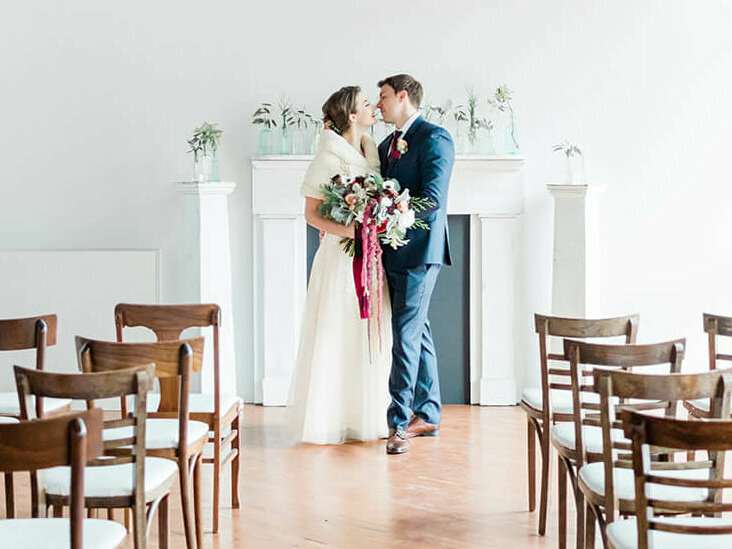 Wedding Weekends
with a View
The Elgin area offers a mix of both rural and urban venues that combine the classic rustic look and a more refined look to make any wedding your dream one. Here, you can host your rehearsal dinner at Bleuroot, West Dundee's farm-to-table restaurant overlooking the famous Fox River. Or perhaps plan your wedding ceremony on Walton Island in downtown Elgin surrounded by nature and the Fox River. Or maybe even book your reception at one of our famous downtown Elgin refurbished spaces.
Outdoor venues are always trending with couples choosing between a nature background or a scenic rooftop view. Other outdoor venue options include golf courses, rustic cabin vibes, orchards, farmhouses, and more! The expert team at Explore Elgin Area can help you pick a venue that fits you and your lifestyle.
We can help you plan your dream wedding! Just one simple email or call to us is all it takes to start a lifetime of love.
We can put you in touch with:
Wedding ceremony and wedding reception locations
Wedding Photographers
Hotels and accommodations for your guests from out-of-town
Wedding caterers and bakeries
Wedding dresses, tuxedo rentals, and alterations
Wedding invitation designers
Florists, decorators, and stylists
Hair and beauty experts
Jewelers and gift accessories
Transportation
Rehearsal dinner locations
Entertainment for your wedding reception
And more!
All you have to do is tell us what you need- and we will be right by your side by helping you find all you need. Our wedding planning services are free of charge, AKA the perfect cost for any wedding budget.
If you would like to help planning a wedding in the Elgin area, please contact the Explore Elgin Area Convention and Visitors Bureau at (800) 217-5362, email Ryan@ExploreElginArea.com or complete our form to request more information.