DISCOVER ALL OF THE REASONS TO ADD AN ELGIN VACATION TO YOUR CALENDAR
The Elgin area in Illinois has drawn visitors from all across the region and internationally for so many different reasons. Some come to see the only farmhouse Frank Lloyd Wright ever designed in his lifetime. Some come to experience the area's award-winning golf courses. Others come to challenge themselves on the Fox River Bike Trails.
The Fox River Bike Trails
More than 40 miles of trails await adventure seekers in the Elgin area. The Fox River Bike Trails run through 12 communities with a view of the Fox River throughout most of the ride. Stop for photos outside of the "Castle," or cool off inside Gail Borden Public Library while you explore the new museum exhibit.
The trail is perfect for avid cyclists who ride for exercise or for a family adventure with lots of fun stops for the kids. Van's Frozen Custard is a favorite stop for families, while adults like Bandito Barney's Beach Club or Diamond Jim's. We are happy to help you plan an outdoor adventure for whatever kind of trip you are looking for.
Elgin golf courses
Looking to escape the stress of the office or take a break after your convention? The Elgin area offers award-winning golf courses where you can practice your swings.
Elgin is home to two unique golf courses: The Highlands of Elgin's beautiful links course is perfect for golfers of all levels, including beginners and professionals. The award-winning Bowes Creek Country Club expertly blends the natural environment of the area into the course's 6,900 yards and 18 holes of championship-quality golf.
The rolling greens and fairways of Bartlett Hills Golf Club in Bartlett are sure to challenge even the most experienced golfers.
Arts in Elgin
Elgin, Illinois, is known for its strong arts community, which started in downtown Elgin and quickly spread throughout the whole city. Events such as Art & Soul on the Fox and Elgin Fringe Festival highlight local artists, but what makes Elgin a strong arts community is the local artwork visitors will see on restaurant walls around town.
Elgin Artspace Lofts in downtown Elgin houses 55 artists and their families. The artists have a place to live that also doubles as a creative space for them to work. The artwork they create hangs at local pizza places and office buildings.
Elgin is also home to the Elgin Symphony Orchestra and Elgin Youth Symphony Orchestra. Music can be found around every corner with our wandering buskers, but the crowds flock to the Hemmens Cultural Center for Elgin Symphony Orchestra's winter performances.
Grand Victoria Casino
Grand Victoria Casino is a destination within Elgin city limits and located right along the Fox River Bike Trail. Visitors and residents can make a full day trip of their adventure at Grand Victoria Casino. Whether you want to taste your way through the culinary delights offered at Prime BurgerHouse, Buckingham's Steakhouse & Lounge, Indulge Show Kitchen Buffet or Crave Deli, you are sure to find a meal to write home about. Food options.
Make sure you visit the riverboat where you will feel the excitement from all of the bright lights of the slot machines and energy coming off of the players at the tables. It is a true gaming experience located right in the heart of downtown Elgin.
Bars in Elgin
The Elgin area is quickly becoming the place locals and visitors go to enjoy a drink after work or in between meetings. Martini Room in downtown Elgin serves up more than 50 varieties of martinis, but the real crowd-pleaser is flight night on Wednesdays,when guests can sample five specialty martinis for just $15.
Beer lovers are drawn to Plank Road Tap Room, a one-room log cabin, which has 15 ever-changing local craft beers to try as a cold pint or in a flight of four. Check it out on the weekend to indulge in dinner from a local food truck, or bring a snack from a local restaurant.
Visitors looking for more of a brewery experience will enjoy a pub-style dinner at Emmett's Brewing Co. in West Dundee. All food pairs perfectly with Emmett's very own beer brewed on the premises.
Architecture in Elgin
Like most train communities, the Elgin area has a rich history with early settlements and unique houses. One of the largest architectural draws to the area is the Muirhead Farmhouse, the only farmhouse Frank Lloyd Wright ever designed and built in his lifetime. The descendants of the original family still live in the house, and when visitors tour the house, they are able to see letters between the family and Frank Lloyd Wright. You may also hear firsthand stories that have been passed on through the family.
Continue the architectural adventure with the Annual Historic Elgin House Tour in September, or grab a self-guided Walking Tour Map at the Elgin Area Convention & Visitors Bureau. Enjoy Victorian-style homes, a large collection of Sears Catalog Homes and other historic treasures around the Fox River Valley.
Whether you are coming for an Elgin Symphony Orchestra performance, a round of golf at the award-winning Bowes Creek Country Club or a craft beer and dinner pairing at Emmett's Brewing Co. you will see why visitors travel to the Elgin area year round.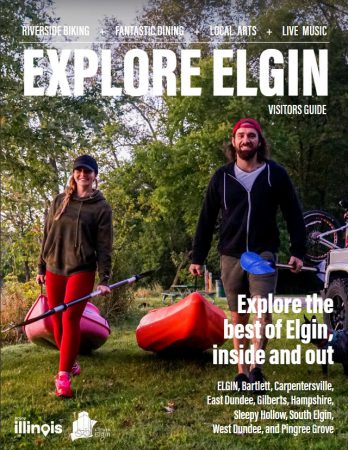 Visitor's Guide
Get our Visitor's Guide for all you need to know about the Elgin area.
Read Your Guide