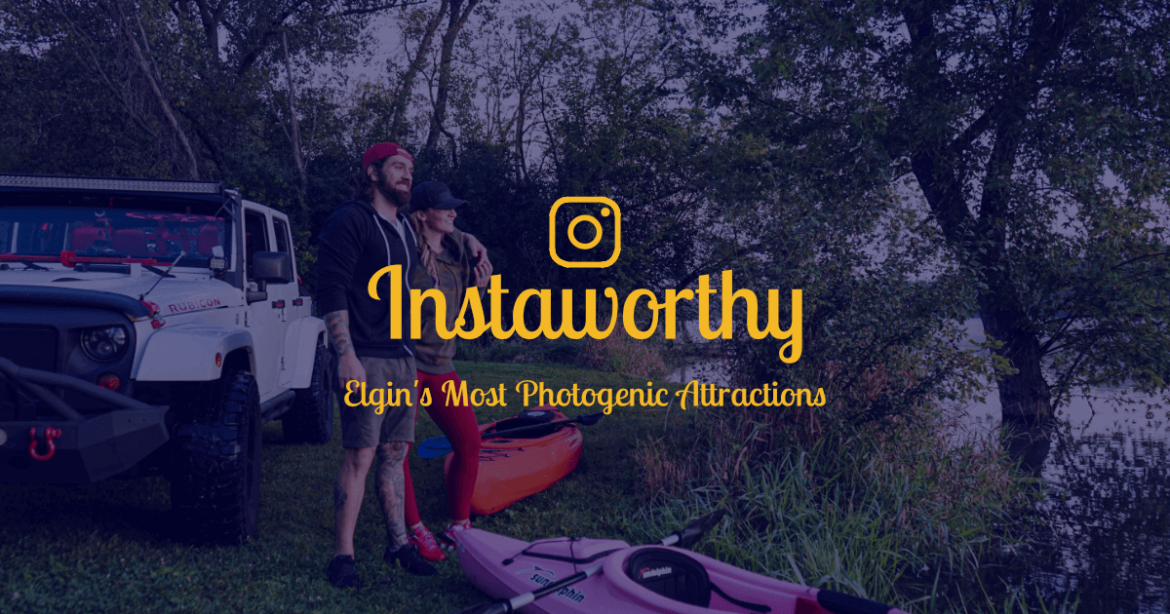 With all the social media we use on a daily basis, its no wonder we've gotten so great at taking pictures. Your next amazing photo opportunity is right here in the Elgin Area! Don't forget to tag #ExploreElgin to be featured in our feed.
Check out these top Elgin area photo locations!
Walton Island, Elgin
Walton Island, located just south of the Elgin Dam on the Fox River in downtown Elgin was created in the WPA program of the 1930's. It was dedicated to the City by the Izaak Walton League. The 4.5-acre parcel provides walking paths, fishing opportunities and a pavilion shelter for special events. The gazebo is an excellent spot to hold a wedding ceremony or take wedding photos.
Riverside Drive Promenade, Elgin
Riverfront Promenade which now serve as settings for year-round community celebrations, events and casual recreation. Festival Park features a unique children's play environment that ties into the park's festival theme. Several public art sculptures are along the promenade and make great photo opportunities as well.
Elgin Museums, Elgin
Elgin is home to several museums for all interests. Each with unique architecture, and one-of-a-kind items. Be sure to take a look around! Museums include: Fire Barn No.5, Elgin Public Museum of Natural History & Anthropology, Elgin History Museum, and U46 Observatory/Planetarium.
Which Way Mural, Elgin
This large colorful mural of two hands pointing in different directions, is a great backdrop to a fun or artsy photo.
Jeike Creek Bird Sanctuary, Sleepy Hollow
Your adventure begins as you exit the new parking lot located off Boncosky Road in Sleepy Hollow onto one of the gravel trails. Notice the stone council ring to your right. The new pavilion is visible and can be easily accessed from the parking area.

Jon J. Duerr Forest Preserve Waterfall, South Elgin
Water gurgles up from a spring in the southern Fox Valley limestone, under a bridge on Route 31 and then over a low nearby waterfall.
BAPS Shri Swaminarayan Mandir, Bartlett
Encompasses the Stone Mandir, the Wooden Haveli and Understanding Hindu Dharma Exhibition. Open to visitors from 9am – 7:00pm daily throughout the year.
Craft Donuts, West Dundee
Specializing in handcrafted donuts and lattes with photo worthy designs.
Fox River, Carpentersville, West Dundee, East Dundee, Elgin, & South Elgin
On the western outskirts of the Chicago metropolitan area sits an idyllic valley region nestled snugly along northern Illinois' Fox River. With picturesque views from the Fox River Bike Trail and Fox River Water Trails, you'll find plenty of Instaworthy moments!

Randall Oaks Zoo, West Dundee
Situated at the top of a hill, Randall Oaks Zoo offers a variety of kid-friendly farm animals for viewing, petting, and feeding. A stroll through the barn gives visitors an opportunity to meet alpacas, goats and a few of their other animal friends. Some highlights of the zoo include cows, mini horses, a Clydesdale, sheep, goats, emus, alpacas, reptiles, deer, rabbits, chickens, pigs, fox, and birds, including Red-tailed hawks, peacocks and Great Horned Owls!