Best Fitness Spots
Looking for great places to exercise? The Elgin Area has many options from basic free outdoor amenities to completely unique experiences to enjoy while exercising. We've comprised this list of places the most popular fitness spots that can be found in our 10 communities. Keep reading to learn about the best places to get your sweat on!
The Fox River Trails
What makes the Fox River Trails a popular spot for fitness and outdoor enthusiasts alike, is the versatility. Not only are the Fox River Trails great for a casual walk or a long distance run, they're paved in a way that makes them a perfect stretch for biking as well.
It's great to be able to bike without worrying about crossing loads of busy roads, plus with lots of cool things to see along the way and a trail fit for even the longest rides, it's great no matter what you skill level is. Plus there's loads of places to pull off and rest or explore one of the local communities it runs through. A huge perk to the Elgin Area section is that situated right off the trail in Carpentersville sits Main Street Bicycles. They can hook you up with a bike rental to enjoy for the whole day or whatever your preferred time range is at a variety of prices based on the type of bike you're renting.
Lastly, another popular way to enjoy some exercise is by getting onto the river via a kayak! There's numerous launch spots situated along the river near free parking, so it easy to bring your own and hop in. But if you don't have your own kayak, contact our friends at Kayak Mayak and they'll set you up.
Goat Yoga
Enjoy a relaxing exercise session with the delight of goats roaming around you with Goat Yoga Chicago. Take a single class or sign up for multiple! All classes are led by a certified yoga instructor and take place at the Arboretum in Barrington or at the goats' home at Reverse the Kerrs Farm. Goat Yoga Chicago is ready to bring lots of laughs in the name of stress relief, animal therapy and overall mental health wellness.
Paintball Explosion
While this may seem like a strange entry on this list, hear us out. All the areas of play at Paintball Explosion include hills, bunkers, and other obstacles where you'll have to duck, dodge and hide. These obstacles include elements like a bumper car arena and stalls left abandoned when the amusement park Santa's Village closed in 2006 before Paintball Explosion came to occupy that space. Other activities besides paintball are available, like air-soft and laser tag.
Rock-climbing
Strength and endurance are tested on a rock wall. Located in the Centre of Elgin this rock-climbing feature consists of two vertical sides; one slab, and one slight overhang, beginners can easily ascend up past the second floor balcony. The wall is outfitted with routes to accommodate all climbing abilities in both kids and adults. Open Climb is scheduled for Mondays from 11am to 1pm, Tuesdays from 6-8pm and Saturdays from 1-5pm. See climbing rates
Local Yoga Spots
Vida Yoga and Fitness
Located in downtown Elgin this highly accessible brick and mortar studio offers a large variety of classes perfect for those who prefer to go somewhere to exercise. The variety of classes include beginner sessions, a variety of yoga styles including Hatha, Vinyasa, Yin flow and Restorative. There are also other classes that focus on high-intensity interval training, toning and weight lifting. Single classes are $15 and there are an array of packages available if you enjoy it!
The Yoga Room
This studio is best for those who prefer to do their exercising from the comfort of their home. This 100% virtual studio offers its own array of class options like Raja and Restorative yoga, Pilates, breathwork and barre. Elizabeth Berent operates and teaches the yoga room' classes. Her areas of therapeutic expertise includes: pain relief, joint disorders, neurological conditions, mental health (anxiety, depression and mood disorders), major life transitions, grief and loss.
Elgin Community Bikes Events
Elgin Community Bikes is an organization that centers around health and wellness and achieving those related goals on a bike. The most common events are the monthly Full Moon Ride events. Where on the full moon of each month the organization and group hop on their bikes and enjoy the designated route in the added light of the full moon. This organization is perfect for the biking enthusiast looking to meet people with similar interests and go on coordinated rides with the community. Also did we mention that these events are free?
Winter Sports at Villa Olivia
Snow got your down? Well let it take your down the slopes at Villa Olivia! This facility is perfect for those who love getting exercise in the winter by skiing or snowboarding. Located in Bartlett, it's just a short drive from anywhere in the Chicago area. Amenities include 100% snow making capabilities, ski and snowboard lessons for all levels, and rental equipment available. Plus the hill offers seven runs, a chairlift, six rope tows, and a tubing hill.
Disc Golf
Disc golf is a sport rising in popularity, due to it's easy to learn rules, low cost equipment and free to play courses. The Elgin Area houses two free-to-play courses both open from sunrise to sunset.
Randall Oaks Park
This course in a 10-hole course in West Dundee and is located in the back of the park, north of the Community Shelter.
Rolling Knolls Forest Preserve
This course has 18 holes and was converted from an old country club golf course; featuring rolling terrain and a mix between tree cover and open areas.
Where are your favorite spots in the Elgin Area to be active? Let us know! Or share pictures of your favorite spots with us by sending them directly to us or by posting your photos online and using #ExploreElgin.
Keep Reading →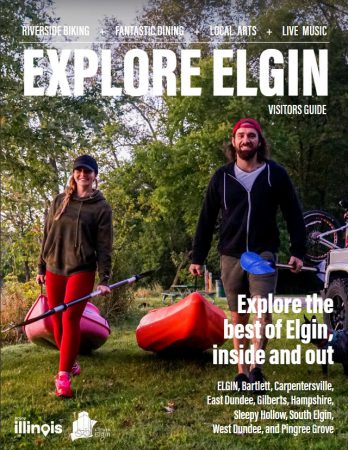 Visitor's Guide
Get our Visitor's Guide for all you need to know about the Elgin area.
Read Your Guide