Coffee Culture in the Elgin Area
It's easy to see that coffee culture is on the rise in the Elgin area– just take one look at the number of small, independent shops found in neighborhoods throughout our communities. We take a look at the top places to satisfy your caffeine craving.
Coffee isn't just a part of your daily routine, it's also something to build great conversation over. However, not everyone loves coffee. No problem! If your taste buds prefer teas, juice, smoothies, and hot cocoas you can find options from some of these local coffee shops:
Elgin
Alexander's Cafe
1725 N. State Street
Elgin, IL
This contemporary diner features delicious lattes, and an excellent breakfast menu.
Arabica Cafe
59 Douglas Ave,
Elgin, IL 60120
Arabica Cafe is a local coffee House featuring Bridgetown Coffee and espresso, scratch-made pastries and sandwiches on their own scratch-made bread. We recommend their Honey Vanilla Latte.
Blue Box Cafe
176 E. Chicago Street
Elgin, IL
Brightly colored coffee & sandwich shop with breakfast fare, a Dr. Who theme & weekend events.
Country Donuts
3091 US-20 #101
Elgin, IL
Serving fresh and tasty coffee and donuts for 30 years!
Meraki Market Hub
66 S Grove Ave
Elgin, IL
6,000 square feet of shopping feature multiple artisan shops. From handmade soaps to clothing, accessories home decor and more. Browse while sipping on a handcrafted coffee beverage or a cold brew. Also features a back patio near the Fox River and Fox River Bike Trail.
Viator Coffee Co.
51 S. Grove Ave
Elgin, IL
Found inside Lounge 51 where you can find pop-up style lunch options from a variety of vendors.
Bartlett
D'licious Crepes and Roti
225 S Main St.
Bartlett, IL
Cafe serving Indian roti & French crepes in a cozy space with Paris-themed decor & a patio.
Good Beans Coffeehouse & Cafe
211 W Railroad Ave
Bartlett, IL
Good beans is a coffeehouse serving cappuccino, espresso and lattes, along with cold brew. All beans come from small batch roaster, Uncommon Grounds to ensure the most flavor in every cup. And try one of the baked goods while you're there!
Carpentersville
Start Nutrition
1655 Ravine Ln
Carpentersville, IL
Coffee and tea served here as well as refreshing shakes and smoothies.
East Dundee
The Eastside Cafe
316 N. River St.
East Dundee, IL
They have crazy decadent hot cocoas
Mockingbird Bar + Garden
217 Barrington Avenue
East Dundee, IL
Located on the Bike Path and Open all day in European fashion, their combination of Espresso Bar, Cocktail Lounge and Wood-fired Kitchen offers fresh approachable Cicchetti (small plates) in the style of Venice, and prepared in their Wood Burning Oven, as done in the French Countryside.
No matter what you have going on, early morning workout, groceries, heading to work, or just running errands you can get through your day. Grab your favorite at your usual place or switch it up and try something new!
Show us the love and use #ExploreElgin with your best selfie and coffee choice!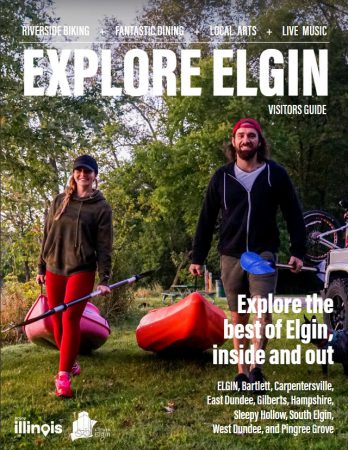 Visitor's Guide
Get our Visitor's Guide for all you need to know about the Elgin area.
Read Your Guide